Recommended Places to See Autumn Leaves in Kyoto Area
2019.10.21
Sightseeing Spot
Recommended Places to See Autumn Leaves in Kyoto Area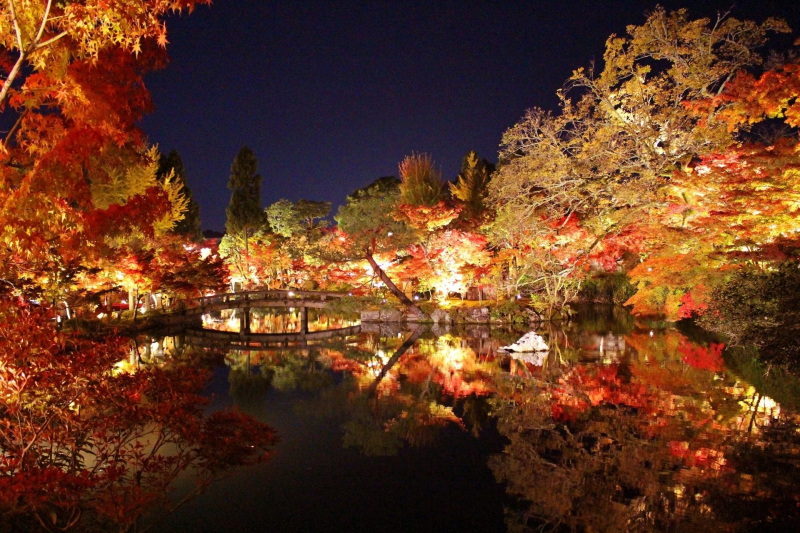 Kyoto is a popular tourist destination that attracts many travelers from Japan and abroad throughout the year. Autumn is one of the seasons when you can fully enjoy the beautiful view of autumn leaves and historical heritages including shrines and temples. In this article, we'll introduce some of the best places to see autumn leaves in Kyoto that you should visit at least once. (Information as of October 2019)
Arashiyama
If you're visiting Kyoto in autumn, you absolutely can't miss Arashiyama, one of the city's most famous autumn foliage spots. The area is dotted with many famous autumn places, such as Tenryuji Temple, Hogonin Temple, Jojakkoji Temple, and Nonomiya Shrine, where you can rest your mind and enjoy a leisurely stroll.



Address: Saga, Ukyo-ku, Kyoto City and Arashiyama, Nishikyo-ku, Kyoto City (about 5 minutes walk from Arashiyama Station on Hankyu Arashiyama Line, etc.)
Kifune Shrine
Located upstream of the Kibune River, "Kifune Shrine" is a popular power spot in Japan. The autumn leaves are in full bloom around the beginning of November every year, and you can enjoy the beautiful contrast of red, yellow, and green colors. We recommend visiting after sunset when the lights are lit up making all the autumn leaves shine, you would never forget this view.



Address: 180 Kurama-Kibune Town, Sakyo-ku, Kyoto City (5-minute walk from "Kifune" bus stop on the Kyoto Bus Line)


Opening hours: 6:00 - 20:00 (May - November), 6:00 - 18:00 (December - April)
Kiyomizu-dera Temple
"Kiyomizu-dera Temple", known for the "The Stage of Kiyomizu" (large wooden veranda), is also famous for its autumn foliage. The temple precincts are home to more than 1,000 mountain maple trees, which are lit up at night to provide a fantastic view.


Address: 1-294 Kiyomizu, Higashiyama-ku, Kyoto City (10-minute walk from Gojozaka Station on the Kyoto City Transportation Bureau (city bus))


Visiting Hours: 6:00-18:00 (varies depending on the season)

Eikan-do Temple (Zenrin-ji Temple)
Since the Heian period (794-1185), Eikando Temple has been a favorite spot for viewing autumn leaves. The beauty of this place was written in the Kokin Wakashu (a collection of ancient Japanese poems). It is also a popular spot for tourists from overseas. About 3,000 maple trees planted in the precincts of the temple provide a long-lasting, beautiful view of the changing colors of the leaves.


Address: 48 Eikando Town, Sakyo-ku, Kyoto City (15-minute walk from Keage Station on the Tozai Subway Line)


Open hours: 9:00 - 17:00 (last admission 16:00)
Takaosan Jingoji Temple
This place is well known as the temple where Kukai, the founder of the Shingon sect, lived. Jingoji Temple is a popular spot in Kyoto, where you can see early autumn leaves. Enjoy the bright red and yellow autumn leaves while climbing the long stairs that lead to the temple. Don't forget to check out the spectacular view of Kinunkei Gorge from the Jizoin garden.



Address: Umegahata Takao Town5, Ukyo-ku, Kyoto City (Get off at JR Bus "Yamashiro Takao", about 20 minutes on foot)



Opening hours: 9:00 - 16:00
Hogon-in Temple
Hogon-in Temple is one of the pagoda temples of Tenryuji Temple, which is registered as a World Heritage Site. The temple is usually closed to the public, but is open for special periods twice a year, in spring and autumn, making it a special autumn foliage spot in Arashiyama. In November, when the autumn leaves are in full bloom, the lights are lit up at night, and in the strolling garden "Shishiku-no-Niwa" with Arashiyama in the background, the crimson trees create a magnificent and photogenic landscape.


Address: 36 Sagatenryuji Susukinobaba Town, Ukyo-ku, Kyoto City (10 minutes walk from JR Saga Arashiyama Station)


Autumn Special Viewing Period: 9:00 - 17:00 (October 5 - December 8, 2019)

Special night viewing period: 17:30 - 20:30 (November 8 - December 1, 2019)
* Not open to the public outside the spring and autumn special viewing periods.
During the autumn foliage season, many places are lit up, and you can enjoy the fantastic atmosphere of the ancient capital - Kyoto. When you visit Kyoto in autumn, check out these famous places for autumn leaves we carefully selected.




Recommended Hotels Around:
Recommended hotels for this article
Monthly archive
2022(9)

2021(3)

2020(2)

2019(15)

2018(16)

2017(14)

2016(23)

2015(9)
SOTETSU HOTELS CLUB
Great Value Cashback Membership Program
Numerous Benefits!
Membership program renewal on September 28, 2021
From point program to cashback!