Recommended Places to See Autumn Leaves in Kamakura Area
2019.10.08
Sightseeing Spot
Recommended Places to See Autumn Leaves in Kamakura Area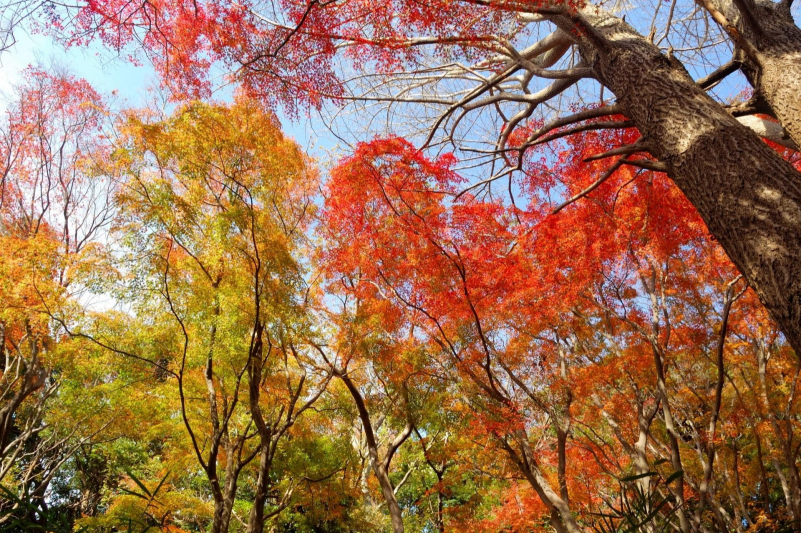 Kamakura is an ancient capital blessed with old shrines, temples, and a rich natural environment. Kamakura is also famous as one of the best places for hydrangeas view in Japan, and from November to early December, you can enjoy the beautiful and colorful autumn leaves. In this article, we'll introduce some of the best spots to spend the autumn foliage season in Kamakura. (Information as of October 2019)
Genjiyama Park
Genjiyama Park is known as one of the earliest spots in Kamakura to enjoy the autumn foliage scenes. The park is also popular as a hiking course. Every year around the end of November, the entire small mountain, 93 meters above sea level, begins to change color and you can enjoy the beautiful golden autumn view.



Address: 4-649-1 Ogigayatsu, Kamakura City (about 20 minutes walk from Kamakura Station on the JR Yokosuka Line)


Opening hours: Free walk
Tsurugaoka Hachiman-gu Shrine
Tsurugaoka Hachimangu Shrine was founded by Minamoto no Yoritomo. It is one of the representative tourist spots in Kamakura. The precincts are dotted with historical buildings, including the main shrine, which is designated as a national important cultural property and is visited by many tourists from Japan and abroad. The autumn leaves are in full bloom from late November to early December every year, and you can enjoy the beautiful, brightly colored trees around Yanagihara Divine Pond and the Kamakura National Treasure Museum.



Address: 2-1-31 Yukinoshita, Kamakura City (10-minute walk from Kamakura Station on the JR and Enoden lines)
Zuisen-ji Temple
"Zuisenji Temple" is also known as the Temple of Flowers. It is a historic temple built in the late Kamakura period (1185-1333) and is a popular spot to enjoy the late autumn leaves. The area around the main hall and the stone staircase leading to the temple grounds are covered in colorful autumn leaves, creating a solemn and fantastic atmosphere.


Address: 710 Nikaido, Kamakura City (about a 10-minute walk from the "Otonomiya" bus stop on the Keikyu Bus Line)


Opening hours: 9:00 - 17:00 (admission until 16:30)
Engakuji Temple
Engakuji Temple is popular for its easy access, just a minute walk from Kita-Kamakura Station. The autumn leaves at the main gate, which can be seen from the Yokosuka Line train, are in full bloom from late November to early December. The splendid fiery red autumn leaves are one of the representative autumn views of Kita-Kamakura.



Address: 409 Yamanouchi, Kamakura City, Kanagawa Prefecture (1 minute walk from Kita-Kamakura Station on the JR Yokosuka Line)


Opening hours: 8:00-16:30 (March-November), 8:00-16:00 (December-February)
Kenchoji Temple
Kenchoji Temple is the best spot for viewing autumn leaves in Kamakura. It is known as the first full-fledged Zen temple in Japan and has attractions such as the Sanmon gate, the Butsuden (main hall), and the Hatto (sanctuary). The contrast of red and yellow leaves is beautiful and you can fully enjoy the "Autumn in Kamakura" every year from around the end of November.


Address: 8 Yamanouchi, Kamakura City (about 15 minutes walk from Kita-Kamakura Station on the JR Yokosuka Line)



Opening hours: 8:30 - 16:30
Hasedera Temple
Hasedera Temple is known as one of Kamakura's best hydrangea viewing spots, but it is also a great place to see the autumn leaves. Every year when the autumn leaves are in full bloom, the temple holds "special night viewing hours" when the precincts are lit up. It is also a great place to learn about the history of the temple.


Address: 3-11-2 Hase, Kamakura City (5-minute walk from Hase Station on the Enoden Line)



Opening hours: 8:00-17:00 (March-September), 8:00-16:30 (October-February)
Autumn leaves in Kamakura are also called "winter leaves" and some spots can be enjoyed until past mid-December. Even if you couldn't enjoy the autumn leaves view during autumn, you always have time to come to Kamakura in December.



Recommended Hotels Around:
Recommended hotels for this article
Monthly archive
2023(3)

2022(12)

2021(3)

2020(2)

2019(15)

2018(16)

2017(14)

2016(23)

2015(9)
SOTETSU HOTELS CLUB
Great Value Cashback Membership Program
Numerous Benefits!