Where to See Cherry Blossoms in Kyoto? 6 Sakura Viewing Spots
2019.03.26
Sightseeing Spot
Where to See Cherry Blossoms in Kyoto? 6 Sakura Viewing Spots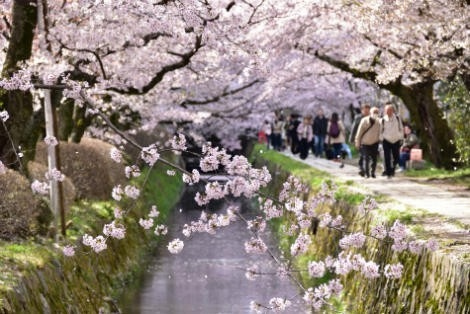 Historic buildings and cherry blossoms create a beautiful Japanese landscape. Kyoto is a city that shows us the beauty of the four seasons at any time of the year, but the cherry blossom season, when the streets of the ancient capital are dyed a gentle pink, is a very special and delicate scene. In this article, we will introduce some of the recommended Sakura viewing spots (Hanami) in Kyoto, where you can enjoy the beautiful cherry blossoms. (Information as of March 2019)
Arashiyama
Arashiyama is a scenic spot that has been known for its cherry blossoms since ancient times. In spring, the surface of the mountain is dyed pink with about 1,500 cherry trees, including Someiyoshino and Yamazakura, and the view from the Togetsu Bridge is as beautiful as a painting. About 200 cherry trees are planted at Tenryuji Temple, a World Heritage Site in the Arashiyama area, creating a beautiful landscape.


Address: Ukyo-ku, Kyoto City, Kyoto Prefecture (Arashiyama Station on the Keifuku Electric Railway)


Opening hours: Free to walk
Keage Incline
The "Keage Incline" located near Nanzenji Temple is the remains of an inclined railway that was once used to transport ships. About 90 Someiyoshino cherry trees are planted along the 582-meter-long railroad track, and you can stroll along the track surrounded by cherry blossoms in full bloom. The unusual combination of an abandoned railway line and cherry blossom trees is worth a visit.


Address: Nanzenji Fukuchi Town, Sakyo-ku, Kyoto City (3-minute walk from Keage Station on the subway line)


Opening hours: Free to walk
Daigoji Temple
Daigoji Temple, a World Heritage Site founded in the early Heian period (794-1185), is a famous cherry blossom viewing spot where you can enjoy different kinds of cherry blossoms such as weeping cherry, Someiyoshino trees, Yamazakura trees, and Yaezakura cherry trees. The temple is also known for "Daigo no Hanami" (party for Sakura viewing) which is said to have been performed by Toyotomi Hideyoshi in the past, and "Toyotomi Hideyoshi Hanami Parade" is held on the second Sunday of April every year.



Address: 22 Daigo Higashioji Town, Fushimi-ku, Kyoto City (10-minute walk from Daigo Station on the Tozai Subway Line)


Opening hours: 9:00 - 17:00 (9:00 - 16:30 from the first Sunday in December to February)
The Philosopher's Walk (Tetsugaku no Michi)
"Tetsugaku no Michi" is a 2-kilometer-long path along the waterway that runs through Ginkakuji Temple. It is known as a path walked by literary figures such as Kitaro Nishida, a philosopher of the Meiji era, it is also popular as one of the best walking spots in Kyoto. Every year in early April, about 500 cherry trees are in full bloom and you can walk under the beautiful pink tunnel.


Address: From Wakaoji Bridge in Sakyo Ward to Jodoji Bridge (about a 2-minute walk from Ginkakuji-mae bus stop on the Kyoto City Bus)


Opening hours: Free to walk
Ninna-ji Temple
Among the many cherry blossom viewing spots in Kyoto, Ninna-ji Temple, a World Heritage Site, is one of the best places to enjoy the late-blooming cherry blossoms in Kyoto. The late-blooming Omuro-Zakura trees adorn the west side of the central gate. It is a fascinating site that has been selected as one of the best 100 cherry blossom viewing spots in Japan. The five-story pagoda in the precincts can be seen through the low Omuro cherry trees, creating a photogenic view.


Address: 33 Omuro-Ouchi, Ukyo-ku, Kyoto City (5 minutes walk from Omuro-Ninnaji Station on the Keifuku Kitano Line)



Opening hours: 9:00 - 17:00 (reception until 16:30)
December to February 9:00 - 16:30 (reception until 16:00)
Maruyama Park
Maruyama Park is known as the first urban park built in Kyoto. There are more than 600 cherry trees planted in the park, which has been loved by the people of Kyoto as a cherry blossom viewing spot since ancient times. One of the most famous cherry trees is the weeping cherry tree in the center of the park. Named "Gion no Yozakura", its beauty is worth a visit.


Address: Maruyama Town, Higashiyama-ku, Kyoto City (a short walk from Gion Bus Stop on the Kyoto City Bus Line)


Opening hours: Free to stroll
The cherry blossom season in Kyoto is as popular as the autumn leaves season. During the cherry blossom season, many places are illuminated, and the streets of the ancient capital are enveloped in a fantastic atmosphere. If you go to see cherry blossoms in Kyoto, you should definitely make a plan based on the recommendations introduced above!





Recommended Hotels Around:
Recommended hotels for this article
Monthly archive
2023(3)

2022(12)

2021(3)

2020(2)

2019(15)

2018(16)

2017(14)

2016(23)

2015(9)
SOTETSU HOTELS CLUB
Great Value Cashback Membership Program
Numerous Benefits!