Must-see Places for a Girls' Trip! Power Spots Related to Love in Kamakura
2016.07.08
Sightseeing Spot
Must-see Places for a Girls' Trip! Power Spots Related to Love in Kamakura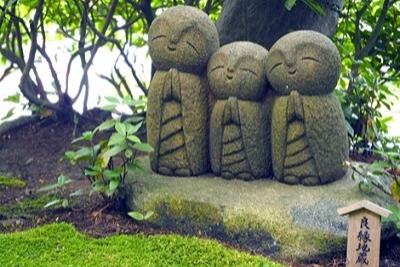 Kamakura is dotted with many places related to matchmaking and the fulfillment of love. This place has always been an area with many shrines and temples, which made Kamakura a power-packed spot that makes your love wishes come true. In this article, we'll introduce some must-see love power spots for girls.
Tsurugaoka Hachiman Shrine
Tsurugaoka Hachiman Shrine
is one of the most popular tourist spots in Kamakura. It is a shrine associated with Minamoto no Yoritomo, the first shogun of Kamakura, and has long been a place of worship for warriors. There are several power spots in the precincts of the shrine, but the one that is said to be most effective for romance is the stone called "Masako-ishi" or "Hime-ishi". This powerful stone, quietly placed behind the Hataage Benzaiten Shrine on an island in Genji Pond, is known to be beneficial for childbirth, and marital happiness. It is said that young men and women who wish to be successful in love often visit this place.
Access: 2-1-31 Yukinoshita, Kamakura City, Kanagawa Prefecture
About a 10-minute walk from the east exit of Kamakura Station on the JR line.
Kuzuharaoka Shrine
Dedicated to Daikoku-sama, the god of a good marriage,
Kuzuharaoka Shrine
is known as a shrine for marriage.
The shrine is located in the heart of the city. It's a great place to learn about the history and culture of the shrine. Right next to it is the "Enmusubiishi", a pair of stones symbolizing male and female enshrined to grant wishes for a good marriage. If you buy an amulet for marriage at the nearby shrine office, you will receive a five-yen coin with a red thread tied to it. After that, you can pull out a love fortune, which may tell you where your future love will take you.
Access: 5-9-1 Kajiwara, Kamakura City, Kanagawa Prefecture
From JR Kita-Kamakura Station, walk along the Kuzuharaoka hiking course for about 30 minutes.
Hasedera Temple
Famous for its many Kannon statues and hydrangeas,
Hasedera Temple
has a lot to offer. It is also a great place to visit to pray for love. The park has three "Good Luck Jizo" statues with gentle expressions of smiling faces. It is said that if you can find all of them, you will be blessed with a good marriage. It's a great place to have a little adventure and look for Jizo.
Another popular item is the "matchmaking talisman" with a design of three swinging hearts. There are also strawberry-shaped "wish-fulfilling charms" and other cute charms available at this temple.
Access: 3-11-2 Hase, Kamakura City, Kanagawa Prefecture
Take a bus from JR Kamakura Station, get off at "Hase Kannon" and walk for about 5 minutes.
Jojuin Temple
Like Hasedera Temple,
Jojuin Temple
is also known as a temple of hydrangea and matchmaking. Fudo Myoo, the main deity of the temple, is originally a frightening-looking Buddha who is good at warding off evil spirits, but the Fudo Myoo at Jojuin is famous as the "matchmaking Fudo Myo" that makes love come true.
A statue of Fudo Myoo is enshrined in the precincts as an alter ego of the main deity, and there is a sign saying that photography is allowed.
According to word of mouth, if you take a picture of this statue of Fudo Myoo and set it as your cell phone's standby screen, your luck in love will improve. In the same precincts, there is also a Jizo for childbirth where you can pray for an easy birth.
Access: 1-1-5 Gokurakuji, Kamakura City
A 3-minute walk from Gokurakuji Station on the Enoshima Electric Railway.
Hokaiji Temple
The
Hokaiji Temple
, which is related to the Hojo clan, is also known as Hagiji Temple and is home to about 200 white bush clovers that bloom in autumn. The most notable thing here is the statue of "Joyful Heaven" enshrined in the Daisho Kangi Tendo Hall on the temple grounds. It is said to be a secret Buddha. Other names for the statue include Daisho Kangi Sojin Ten'o and Shoden-Sama.
The statue of the "Joyful Heaven" at Hokaiji Temple is especially known for its blessings in marital bliss, love fulfillment, and childbirth, young and married couples come to pray for it here.
Access: 3-5-22 Komachi, Kamakura City, Kanagawa Prefecture
A 13-minute walk from the east exit of Kamakura Station on the JR line.
When you want to be with the one you love, it is a traditional custom to go to shrines and temples to pray for your love. If you're in Kamakura, be sure to visit these power spots for love.
Recommended Hotels Around:
Recommended hotels for this article
Monthly archive
2023(1)

2022(12)

2021(3)

2020(2)

2019(15)

2018(16)

2017(14)

2016(23)

2015(9)
SOTETSU HOTELS CLUB
Great Value Cashback Membership Program
Numerous Benefits!