Make the most of trains and buses! Convenient means of transportation for sightseeing in Tokyo
2016.02.23
Sightseeing Spot
Make the most of trains and buses! Convenient means of transportation for sightseeing in Tokyo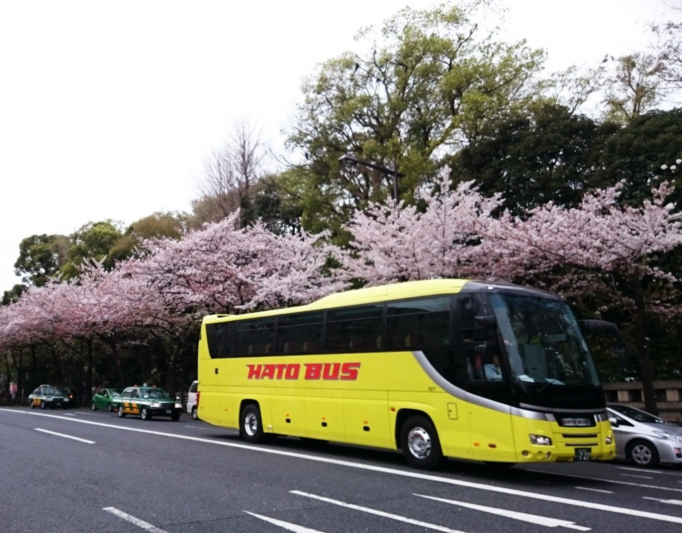 If you live in Tokyo and use a sightseeing bus for sightseeing in the capital city, you may feel a little excessive. However, by using trains and sightseeing buses, you can wisely use your time for sightseeing spots. This time, we will introduce information such as sightseeing bus tours, water buses, and recommended 1-day tickets.
(Prices are as of February 2016.)
Tokyo Sightseeing Course by "Hato Bus"
The most famous sightseeing bus in Tokyo is the
Hato Bus
, which offers about 260 different courses to choose from depending on the destination and time. Tours that take you around Tokyo include "Tokyo One Day / Chinese Cuisine Plan and Japanese Cuisine Plan" (1-day course, 7,980 yen for adults), "Tokyo Tower and Asakusa Sumida River Cruise" (1-day course, 7,600 yen for adults), and "Tokyo News Spot Tour" (1-day course, 7,400 yen for adults).
Other popular courses include those that allow you to climb the Tokyo Sky Tree Observation Deck and the Sky Deck Corridor, all-you-can-eat courses that include premium sushi, courses that allow you to enjoy a cruise on Tokyo Bay, half-day Tokyo courses, and courses that allow you to enjoy Tokyo at night. While it's nice to have the freedom to roam around Tokyo on your own, the Hato Bus is a great way to make sure you get into all the popular spots.
"Sky Bus Tokyo" to go around by double-decker bus
Skybus Tokyo
, known for its open red double-decker buses, is convenient for those who want to enjoy Tokyo efficiently in a short period of time. There are various courses available, such as the Imperial Palace, Ginza, and Marunouchi Course, Omotesando and Shibuya Course, Tokyo Tower, and Rainbow Bridge Courses. Basically, only open-top second-floor seats are available, and the view while driving is excellent.
However, it may be hot or cold depending on the season, and raincoats will be distributed on rainy days. Many foreigners are seen among the passengers, and guidance in foreign languages is available upon request. The ticket counter and boarding area for the Tokyo course, which has no stopovers, is located in the Mitsubishi Building, a three-minute walk from the Marunouchi South Exit of Tokyo Station.
See Tokyo from the water with the TOKYO CRUISE water bus
The TOKYO CRUISE
, operated by Tokyo Metropolitan Sightseeing Company, is a cruise boat that travels along the Sumida River and Tokyo Bay, offering views of Azuma Bridge, Asakusa, Tokyo Skytree, Rainbow Bridge, and Odaiba. TOKYO CRUISE is a great way to enjoy the powerful scenery from a perspective close to the water.
The route includes the Sumida River Line, which takes you on a tour of the Sumida River through 12 bridges; the Odaiba Line, which connects Hinode Pier and Odaiba Seaside Park; and the Skytree View Cruise (limited time only), which allows you to enjoy the Tokyo Skytree from a boat.
The water buses are designed by Leiji Matsumoto, a master of manga and anime, and include the spaceship-like Himiko, Hotaruna, and the Edo-style Goza Boat Atakemaru, named after the Goza Boat built by Iemitsu Tokugawa. Seasonal event cruises that coincide with the first sunrise, night cherry blossoms, and fireworks displays are also very popular.
Check out the "1DAY ticket" for trains and buses
For sightseeing in Tokyo, there are several tickets that allow unlimited rides on buses and trains for a day. Make good use of these tickets and tour Tokyo wisely.
Tokyo Free Ticket
If you plan to use JR, Toei Subway, and Tokyo Metro, you can get on and off all JR trains, Toei Subway, Toei Bus, Toden Arakawa Line, and Nippori/Toneri Liner within the 23 wards of Tokyo. The fare is 1,590 yen for adults and 800 yen for children.
Toei Subway and Tokyo Metro One-Day Pass
If you only use the subway, we recommend this ticket, which allows you to get on and off all Toei Subway and Tokyo Metro lines. The ticket is valid for 1,000 yen for adults and 500 yen for children.
Yurikamome 1 Day Pass
If you want to enjoy the Odaiba area, you should buy this ticket. The ticket allows you to get on and off all stations at the Yurikamome line. The price is 820 yen for adults and 410 yen for children.
Tokyo Skytree Panorama Ticket
The Tokyo Skytree Panorama Ticket is a special ticket that includes an admission ticket to the Tokyo Skytree Observation Deck and is issued by Tobu Railway. "Round-trip discount from the boarding station within the sales section to Kitasenju", "Free ticket between Asakusa, Oshiage, Kameido, and Kitasenju", "Date-designated admission ticket voucher for Tokyo Skytree Observation Deck", these are all set tickets. Fares vary depending on the departure station.
If you're planning a sightseeing tour of Tokyo, you'll need to take advantage of our convenient and affordable tour plans and 1-Day tickets. Use this great information and enjoy Tokyo.
Recommended Hotels Around:
Recommended hotels for this article
Monthly archive
2022(9)

2021(3)

2020(2)

2019(15)

2018(16)

2017(14)

2016(23)

2015(9)
SOTETSU HOTELS CLUB
Great Value Cashback Membership Program
Numerous Benefits!
Membership program renewal on September 28, 2021
From point program to cashback!