Recommended New Year's Pilgrimage Spots in Tokyo
2018.12.11
Sightseeing Spot
Recommended New Year's Pilgrimage Spots in Tokyo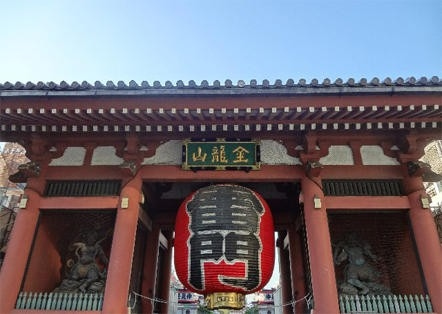 Hatsumode is a Japanese tradition of visiting shrines and temples on New Year. There are many Hatsumode spots in Tokyo, but this year it might be nice to celebrate the New Year in a different place. In this article, we'll introduce you to some of the best Hatsumode spots in Tokyo, focusing on the classic spots. (Information as of December 2018)
Asakusa Sensoji Temple
Sensoji Temple is said to have been built in 628 during the Asuka Period, making it the oldest temple in Tokyo. It is famous for its Kaminarimon (Thunder Gate). Sensoji Temple is a popular tourist spot regardless of the season, but it is especially crowded with visitors from New Year's Eve to New Year's Day. Go through Kaminarimon (Thunder Gate) and Hozomon (Gate of Treasure), and then pray in the main hall, where the statue of Saint Shokanzeon Bosatsu is enshrined.

The number of visitors during the three days of the New Year is usually about 2.8 million, and you might wait in line for a long time before you can come to the shrines, so be sure to take precautions against the cold.




Address: 2-3-1 Asakusa, Taito-ku, Tokyo (5-minute walk from Asakusa Station on the Tobu Skytree Line, Tokyo Metro Ginza Line, Tsukuba Express, and Toei Subway Asakusa Line)
Nezu Shrine
Nezu Shrine, located in Bunkyo Ward, is said to have been founded by Yamatotakeru no Mikoto about 1,900 years ago, and is one of the ten shrines in Tokyo with a long history. The shrine grounds are known for their azaleas, and the Senbon Torii gate creates a unique atmosphere.


Many food stalls are set up during the New Year's visit, making it a great place for families and couples. The shrine is also dedicated to the god of marriage, making it a perfect place for a date.



Address: 1-28-9 Nezu, Bunkyo-ku, Tokyo (about a 5-minute walk from Nezu Station or Sendagi Station on the Tokyo Metro Chiyoda Line)
Jindaiji Temple
Jindaiji Temple is a Buddhist temple located in Chofu City, Tokyo, and is also known as a location for the TV series "Gegege no Nyobo". There are several sources of spring water on the temple grounds, and a botanical garden using the spring water is also located there. The temple is also famous for its Jindaiji Soba noodles, which are made with spring water, and many visitors come here to enjoy them as New Year's Eve soba noodles.



Address: 5-15-1 Jindaiji Motomachi, Chofu City, Tokyo (1-minute walk from Jindaiji bus stop on Odakyu Bus and Keio Bus)
Meiji Jingu Shrine
Meiji Jingu Shrine is dedicated to Emperor Meiji and Empress Shoken, and is one of Tokyo's most popular spots for New Year's visits, with over 3 million visitors on the first three days of the New Year alone. The shrine's grounds are incredibly huge and 100,000 trees have been planted around, creating a deep forest in the heart of the city that will heal your soul.


It is possible to visit the shrine at night from New Year's Eve to New Year's Day, but it takes a long time to get there due to the crowd. Be sure to bring warm clothing.


Address: 1-1 Yoyogi-Kamizonocho, Shibuya-ku, Tokyo (1-minute walk from JR Harajuku Station)
Ryusenji Temple (Meguro Fudoson)
Meguro Fudoson is a temple of the Tendai sect of Buddhism located in Meguro-ku, Tokyo. The official name of the temple is Ryusenji Temple. Meguro Fudoson has a long history and was founded by Jikakudaishi in 808. The grounds of the temple are really large, there are waterfalls and small halls scattered throughout the area. The temple has a reputation for being especially beneficial for warding off evil spirits.

During New Year's, many food stalls are lined up, making it a great spot for couples and families.




Address: 3-20-26 Shimomeguro, Meguro-ku, Tokyo (12-minute walk from Fudomae Station on the Tokyu Meguro Line)
Yasukuni Shrine
The Yasukuni Shrine is located in Kudan-kita, Chiyoda Ward, and enshrines the dead spirits of the war, including those who served during the Meiji Restoration after the end of the Tokugawa Shogunate, and military personnel who gave their lives for their country in wars.

The number of visitors during New Years's three days is usually around 250,000. There are also many food stalls along the Omotesando area, you can enjoy eating at the stalls after visiting the shrine.


Address: 3-1-1 Kudan-kita, Chiyoda-ku, Tokyo (1-minute walk from Kudanshita Station on the Tokyo Metro Hanzomon, Tozai Line and the Toei Subway Shinjuku Line)
We have introduced some recommended spots for Hatsumode in Tokyo. All shrines and temples are usually crowded on Hatsumode, but the atmosphere and the feeling of the New Year are worth your time.




Recommended Hotels Around:
Recommended hotels for this article
Monthly archive
2022(9)

2021(3)

2020(2)

2019(15)

2018(16)

2017(14)

2016(23)

2015(9)
SOTETSU HOTELS CLUB
Great Value Cashback Membership Program
Numerous Benefits!
Membership program renewal on September 28, 2021
From point program to cashback!