Fruit Picking in Kansai! 6 recommended spots
2022.03.22
Sightseeing Spot
SOTETSU HOTELS
SOTETSU FRESA INN
THE POCKET HOTEL
HOTEL SUNROUTE
Fruit Picking in Kansai! 6 recommended spots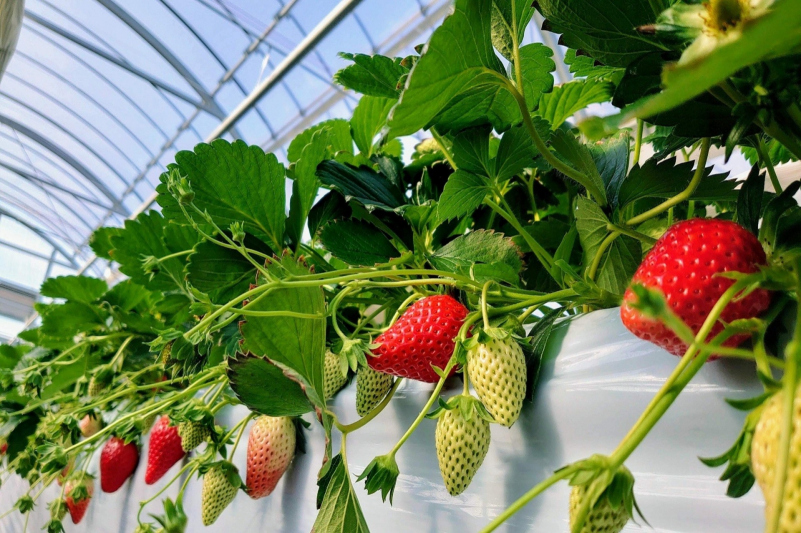 Fruit picking allows visitors to taste freshly harvested fruit on the spot. Because it can be enjoyed by children and adults of all ages, it is perfect for sightseeing with family or friends. In this issue, we will introduce some recommended spots in Kansai where you can enjoy fruit picking.
Fruit Picking Spots for "Strawberry" in Kansai
Strawberries are the most popular winter fruit to pick. In addition to tasting freshly picked strawberries on the spot, you can also enjoy exquisite sweets made from strawberries.
Agricultural Park Shigisan Nodoka-mura
From winter to spring, picking strawberries grown in greenhouses is popular, and visitors can fully enjoy the fresh strawberries with a 30-minute time limit. However, strawberry picking is not by reservation but on a first-come, first-served basis, and ends when the best strawberries are gone. If you want to be sure to enjoy strawberry picking, it is recommended to come to the park early.
Address:1-7-1 Shigiminamihata, Sango-cho, Ikoma-gun, Nara
Access:From Shigisanshita Station on the Kintetsu Ikoma Line, take the Nara Kotsu Bus to
"Shigisanmon" and then take the shuttle bus for 5 minutes.
From Shigisanguchi Station on the Kintetsu-Shigi Line, take a cable via Takayasuyama,
A 5 minutes by shuttle bus after getting off the Kintetsu bus "Shigisanmon"
A 5 minutes by shuttle bus after getting off at "Shinki Sanmon" by Nara Kotsu Bus
    from JR Oji Station
Yumesaki Strawberry House
Yumesaki Strawberry House in Himeji City is one of the most popular strawberry picking spots in Hyogo Prefecture. In the clean house equipped with the latest facilities, four varieties of strawberries, including the popular Benihoppe, Akihime, Yotsuboshi, and Kaorino, are grown at high altitude, and visitors can enjoy all-you-can-eat for 30 minutes.
At the café on the premises, visitors can enjoy sweets made from strawberries and rice flour, and excellent hamburgers using Himeji brand pork, as well as buy special vegetables and processed products at the direct sales shop.
Address: 585-1 Miyaki, Yumemae-cho, Himeji-Shi
Access: From the North Exit of Himeji Station (Shinki Bus), board the bus No. 17 and take one of the
buses [51], [52], or [53].  
    Get off at the bus stop "Miyaki". Proceed north about 200 meters and you will see a
large strawberry objet d'art.
     (*Buses are infrequent, so please check the timetable in advance.
Blueberry" fruit picking spots in Kansai
Blueberries are popular for fruit picking from early to mid-summer. In addition to tasting the freshly picked, nutritious berries, you can also enjoy choosing from a variety of processed products as souvenirs.
Kyoto Ohara Blueberry Farm
At the Ishigamiya, a café attached to the garden, visitors can enjoy desserts made from blueberries harvested in the garden and pizza baked in a stone kiln. Nearby is a river where visitors can play in the water, making it a perfect spot for an outing with children.
Address: 206, Ohara Koideishi-cho, Sakyo-ku, Kyoto-Shi, Kyoto
Access: A 30 minutes to 1 hour from downtown Kyoto by Kyoto Bus
Latte Takamatsu
From late July to late August, visitors can pick blueberries for a limited time and enjoy eating them while enjoying the sweet and sour blueberries that are filled with the blessings of the sun. You can also visit the Advance reservations are required at least one week in advance.
Address: 278-3 Yamaguchi, Katsuragi-Shi, Nara
Access: A 40 minutes walk from Kintetsu Shinjo Station on the Kintetsu Railway
Grapes" fruit picking spots in Kansai
If you want to enjoy a highly satisfying fruit picking experience, grape picking is an absolute must. It is a great point to enjoy a variety of tastes from the standard varieties to the best of the best.
Tondabayashi Agricultural Park Saber Farm
One of the most popular activities is grape picking, which is available from July to September, and includes a variety of grape varieties such as Himurotto, Murasakitama, Fujitoshi, and Berry A. You can enjoy unlimited all-you-can-eat grapes for an unlimited amount of time, and you can even take home a bunch as a souvenir.
Address: 2300 Kannabi, Tondabayashi-Shi, Osaka
Access: A 15 minutes by bus from "Tondabayashi Station" on the Kintetsu Nagano Line
Kamide Kanko Vineyard
Scissors and buckets for cutting grapes are available for rent, as well as rugs, so visitors can go light. You can also bring your own lunch into the garden, so you can enjoy a picnic under the grape vines while slowly picking the grapes. At the direct sales shop attached to the garden, in addition to Muscat Berry A, you can also buy Pione and Shine Muscat grapes.
Address: 1148-102 Higashi, Kamide-cho, Nishi-ku, Kobe-shi
Access: From JR "Sanyo Akashi Station" Shinki Bus bound for Miki / Sha / Ono, 8 minutes walk from
the old Noguchi bus stop
From the municipal subway "Seishin Chuo Station" Shinki Bus towards Miki (Line 82)
a 8 minutes walk from the old Noguchi bus stop
There are many seasonal fruit picking spots in Kansai. Please take a look at the above information when you go out.
*Some of the following recommended hotels are closed.
For more information.
Recommended hotels for this article
Monthly archive
2023(4)

2022(12)

2021(3)

2020(2)

2019(15)

2018(16)

2017(14)

2016(23)

2015(9)
SOTETSU HOTELS CLUB
Great Value Cashback Membership Program
Numerous Benefits!