Kanto Travel Destinations for Spring! 6 unique spring outings
2022.03.08
Sightseeing Spot
SOTETSU HOTELS
SOTETSU FRESA INN
HOTEL SUNROUTE
Kanto Travel Destinations for Spring! 6 unique spring outings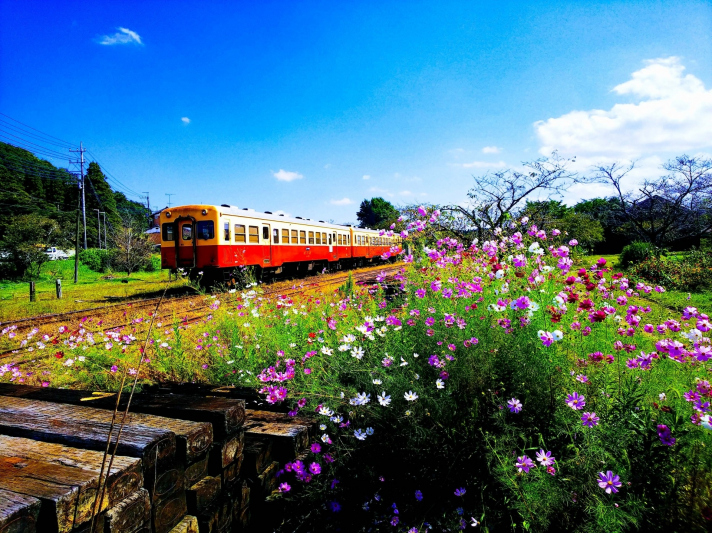 Spring is finally here, and it's time to go out and have fun. Why not take advantage of the warmer weather and visit some of the famous flower spots in the Kanto area? In this issue, we have carefully selected some of the best spring destinations in the Kanto region, and will introduce you to many of their attractions.

Best places to visit in spring in Kanto for lawn cherry blossoms
Shiba-zakura, or lawn cherry blossoms, have lovely flowers that look much like cherry blossoms. The beautiful gradations of color that they create as they cover the ground are a sight to behold.
Hitsujiyama Park [Hitsujiyama Koen] (Saitama Prefecture)
One of the most popular spots is "Shiba-Zakura Hill," a 10-minute walk from the entrance to Hitsujiyama Park. 17,600 square meters of land is planted with more than 400,000 mossy lawn cherry trees in nine different varieties, and from mid-April to early May, when they are at their best, the entire area is covered with pink, white and light purple lawn cherry blossoms. It is beautiful. It takes about one hour to walk around slowly. It is recommended to stroll around with a camera in hand.
Address: 6360 Omiya, Chichibu-Shi, Saitama
Access: A 15 minutes on foot from Seibu-Chichibu Station on the Seibu-Chichibu Line
(with a taxi on the premises)
A 20 minutes on foot from "Yokoze Station" on the Seibu-Chichibu Line
A 17 minutes on foot from Chichibu Railway "Ohanabatake Station (Shibasakura Station)"
Tokyo German Village (Chiba Prefecture)
Among them, the 250,000 lawn cherry trees blooming on an area of about 50,000 square meters is one of the largest in the Kanto region. From late March to late April, when they are at their best, visitors can enjoy the magnificent gradation of pink, white, and light purple shiba-zakura. Visitors can stroll through the park along easy-to-follow wooden paths, which attract many people, from families with small children to couples.
Address: 419 Nagayoshi, Sodegaura-shi, Chiba
Access: A 5 minutes from the Tateyama Expressway "Anesaki Sodegaura IC"
A 10 minutes from "Kisarazu Higashi IC" on the Ken-O Expressway
A 45 minutes by highway bus "Kapina" from JR Chiba Station
Local bus from JR Anegasaki Station and JR Sodegaura Station
Places to see rape blossoms in Kanto where you want to travel in spring
Rape blossoms herald spring one step ahead of cherry blossoms. Just looking at the fields of bright yellow flowers makes one feel refreshed.
Cominato Railway [Kominato Tetsudo] (Chiba Prefecture)
Especially from mid-March to early April every year, the rape blossoms along the route are brightly colored, and their breathtaking beauty has often appeared in commercials and dramas. We recommend the Ishigami Rape Blossom Field, a leisurely 20-minute walk from Yoro Gorge Station. The sight of a train running through a field of rape blossoms attracts many tourists and railroad fans every year.
Gongendo Park [Gongendo Koen] (Saitama Prefecture)
Gongendo Park is a large-scale park completed in 2008, utilizing the waterfront space around a multipurpose regulating pond called Miyukiko. Gongendo Park is one of the most popular nature spots in Satte City, and in spring, visitors can enjoy the magnificent collaboration of approximately 1,000 cherry trees planted along the embankment and rape blossoms that spread a yellow carpet.
Address: 887-3, Uchigouma, Satte-Shi, Saitama
Access: A 20 minutes on foot from Tobu Nikko Line "Minami-Kurihashi Station"
Nemophila Places in Kanto for Spring Travel
Nemophila, which comes into full bloom from April to May, is one of the most representative flowers of spring. The fantastic clear blue flowers attract visitors with their photogenic scenery.
National Hitachi Seaside Park (Ibaraki Prefecture)
Especially in spring, "Miharashi no Oka" (Miharashi Hill) is a romantic scene with approximately 4.5 million nemophila trees all in full bloom at once, turning the entire area blue and blending beautifully with the blue of the sky. It is one of the best places to visit in Kanto in spring.
Address: 605-4 Mawatari Onuma, Hitachinaka-Shi, Ibaraki
Access: A 15 minutes from the east exit of Katsuta Station to the west exit of the park, and a 20 minutes
to the south exit of Kaihin Koen
Ibaraki Kotsu Bus a 30 minutes from the east exit of Tokai Station to the west exit of the park
Ibaraki Kotsu (Highway Bus) a 2 hours by "Katsuta / Tokai Line" from Tokyo Station
Yaesu South Exit to Park West Exit
A 10 minutes on the Smile Aozora Bus Nakaminato Course from "Ajigaura Station" on the
Hitachinaka Kaihin Railway Minato Line, or about 20 minutes on foot to the South Exit of the Park
Showa Kinen Park (Tokyo)
Although smaller in scale than the state-run Hitachi-Kaihin Koen, Showa Kinen Koen is a spot where visitors can enjoy nemophilas in full bloom on a day trip from central Tokyo. About 60,000 plants of nemophila are planted in the park, and they are usually in full bloom from early to mid-May every year. Depending on the timing of blooming, a beautiful collaboration with tulips and rape blossoms can be seen.
Address: 3173 Midori-cho, Tachikawa-shi, Tokyo
Access: JR Chuo Line "Tachikawa Station", Tama City Monorail "Tachikawa Kita Station",
Seibu Waishima Line "Musashi Sunagawa Station", JR Ome Line "Nishi Tachikawa Station"/
"Higashi Nakagami Station"
* The distance from the nearest station to the station varies depending on the park entrance. Please check the following for details.
https://www.showakinen-koen.jp/access/
When you go on your spring trip to Kanto, please refer to the above information to plan a wonderful trip.


Recommended hotels for this article
Monthly archive
2022(13)

2021(3)

2020(2)

2019(15)

2018(16)

2017(14)

2016(23)

2015(9)
SOTETSU HOTELS CLUB
Great Value Cashback Membership Program
Numerous Benefits!