Let's Enjoy Sakura in Tokyo! Cherry Blossom Viewing Spots in Tokyo
2017.02.03
Sightseeing Spot
Let's Enjoy Sakura in Tokyo! Cherry Blossom Viewing Spots in Tokyo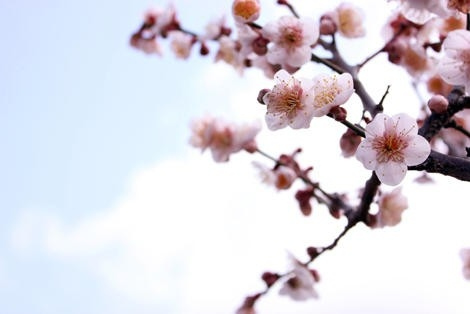 Shinjuku Gyoen National Garden
The Shinjuku Gyoen Garden
has about 10,000 trees on its vast grounds. About 330 plum trees are planted throughout the park. It is a great time to look for plum trees while strolling around the park, but if you want to enjoy the scenery in full bloom, you should stop by the park's facilities. First of all, there is a forest of about 80 red and white plum trees next to the Rakuu-tei tea house in the Japanese garden, and about 70 plum trees in front of the Eco House (Restaurant Yurinoki). Please note that it is prohibited to bring alcoholic beverages and pets into Shinjuku Gyoen.
Best time to see: mid-February to mid-March
Opening hours: 9:00 - 16:00 (closed at 16:30)
Closed days: Monday (If Monday is a national holiday, the next day)
Access: 5 minutes walk from "Shinjuku Gyoenmae" station on the Tokyo Metro Marunouchi line
Rikugien Gardens
Rikugien
, known as one of the two major gardens in Edo, is famous for its red and white plum blossoms, mainly around the Togetsukyo Bridge, although there are only about 18 of them. In early spring, events are held on the theme of Japanese culture, and you can experience the coming spring surrounded by the fragrance of plum blossoms while visiting the beautiful garden.
Best time to see: Mid-February
Opening hours: 9:00 - 17:00 (admission is until 16:30)
Access: 7 minutes walk from Komagome Station on the JR Yamanote Line and Tokyo Metro Namboku Line
Takao Plum Tree Road
Takao Plum Tree Road
is the collective name for the approximately 10,000 plum trees scattered along the old Koshu Highway from JR Takao Station to Kobutsu Pass. One of the best places to visit is the Kogesawa Plum Grove, which is specially opened to the public during the Takao Baigo Plum Festival, held when the plum trees are in bloom. This plum grove has about 1,400 Sakura trees and you can see the red and white plums blooming like a carpet. The grove in Kogesawa is usually closed, so this is the only time to enjoy it.
Best time to visit: Mid to late March.
Opening hours: 9:00 - 16:00
Access: From Takao Station on the JR Chuo Main Line, take the bus to Kobotoke, get off at Hikage or Oshita, then walk for 7 minutes.
Imperial Palace East Garden (Plum Trees hill)
Plum Trees slope
in the Imperial Palace East Garden has about 50 plum trees that are lined up on both sides of the slope, and you can enjoy a leisurely stroll while being surrounded by the wonderful scent. Early-blooming varieties begin to bloom from the beginning of the year, and the best time to see them is around mid-February. It is also a popular spot for foreigners.
Best time to see: Early to late February
Opening hours: 9:00 - 16:30 (Admission is 16:00. Closing hours vary depending on the month)
Access: 3 minutes walk from Tokyo Metro / Toei Subway "Otemachi" station (Ote-mon). Or a 2-minute walk from Tokyo Metro "Takebashi" station (Hirakawamon / Kita-hanebashimon)
Hanegi Park
Hanegi Park
is located in Chiyoda, Setagaya ward. The park is well-equipped, with sports facilities, a play park (adventure playground), a library, and even a Japanese-style rest area and tea house. The park is also one of the best places to see the plum blossoms in Tokyo, with about 650 trees in bloom. About 60 varieties of plum trees are planted, and the Setagaya Plum Blossom Festival is held for about a month from early February, attracting many people as spring comes.
Best time to see: Mid-February to early March
Access: 5 minutes walk from "Umegaoka" station on the Odakyu line
Keio Mogusaen
Keio Mogusaen
is an approximately 26,000 square meter garden located in the Tama Hills. A wide variety of flowers and plants bloom from season to season, delighting the eyes of visitors. The garden is also exceptionally beautiful during the blooming season of the 500 plum trees of about 50 varieties planted throughout the garden. The annual "Plum Blossom Festival" is held from mid-February to mid-March.
Best time to see: Early February to mid-March
Opening hours: 9:00 - 17:00 (until 16:30 in November and December)
Regular holiday: Wednesday (If Wednesday is a national holiday, the next day)
Access: 10 minutes walk from Mogusaen Station on the Keio line
Akatsuka Tameike Park
Akatsuka Tameike Park is home to the historic ruins of Akatsuka Castle and is one of the ten scenic spots of Itabashi chosen by Itabashi Ward. About 200 plum trees are planted in the park, making it a well-known plum blossom viewing spot. Every year in mid-March, the Akatsuka Plum Festival is held, featuring a tea ceremony and various events. Recently, the plum blossoms have been lit up, and you can enjoy the fantastic view of plum blossoms.

Best time to see: Late February to mid-March

Access: 20 minutes walk from Nishi-Takashimadaira Station on the Toei Mita Line



Recommended Hotels Around:
Recommended hotels for this article
Monthly archive
2023(1)

2022(12)

2021(3)

2020(2)

2019(15)

2018(16)

2017(14)

2016(23)

2015(9)
SOTETSU HOTELS CLUB
Great Value Cashback Membership Program
Numerous Benefits!