What to do in Hiroshima? 5 Must-See Places
2021.07.27
Sightseeing Spot
What to do in Hiroshima? 5 Must-See Places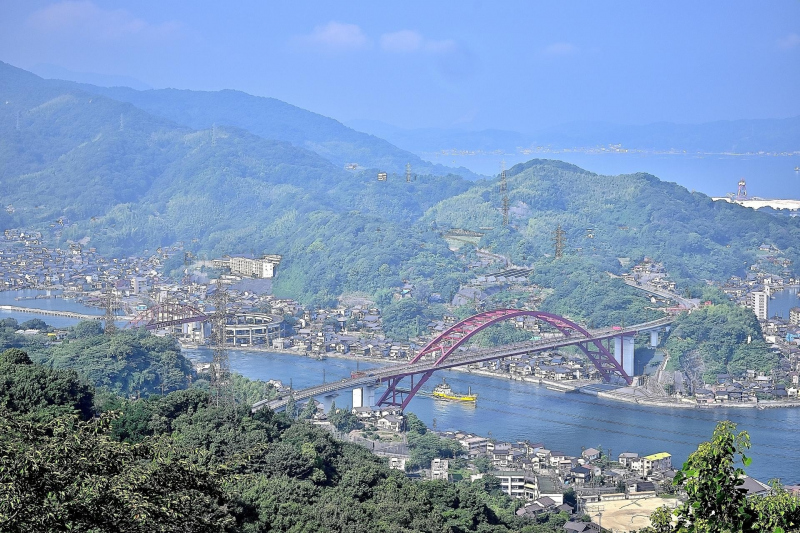 Hiroshima's most popular tourist attractions include Peace Memorial Park, Miyajima Island, and Mazda Stadium, home of the baseball team Hiroshima Toyo Carp, but there are also many lesser-known attractions.



In this article, we will introduce you to some of Hiroshima's secret attractions that you won't find in a typical tourist guidebook.
Ravine Sandankyo (Yamagata District)
Sandankyo is a special national scenic beauty spot where you can enjoy the beauty of clear streams and green canyons. The gorge is about 16 km long and is reputed to be a place where you can walk around the world of landscape painting. The beauty of the fresh greenery in spring and the autumn foliage in the fall is exceptional.


"Kurobuchi Abyss", "Sarutobi", "Nidan Waterfall", "Sandan Waterfall", and "Mitsudaki Falls" are the 5 major tourist destinations that will bring you a sense of the grandeur of nature. Depending on the time, physical strength, and weather, you can enjoy the forest scenery on the two roads, or take a ferry and spend a relaxing time in the beauty of the natural valley.

SUP (Stand Up Paddle Boat) and kayaking are also popular activities to enjoy nature here.



Address: Akiota Town, Yamagata District (1-minute walk from Sandankyo Station on the Sandankyo Line from Hiroshima Bus Center)
Takataniyama Observatory (Miyoshi City)
Takataniyama Observatory is located in Miyoshi City, Hiroshima Prefecture. It is a famous mountain basin also called "Kiri no Umi Observatory" (Sea of fog Observatory) because of the thick fog that occurs from autumn to spring. Many tourists come to see the gorgeous city view covered with thick fog.


It is said that the conditions under which the Sea of Fog is likely to occur are clear skies with little wind in the early morning from October to March. This is a rare sight that can only be seen when all the conditions are met.


Mt. Takataniyama at an altitude of about 490 m is close to Miyoshi City center. The distance from the entrance at the foot of the mountain to the observatory is about 700 m, but there is a parking lot around 300m in front of the observatory, so you can park your car here and wait for the foggy sea. It can be crowded, so better to arrive earlier.


The sunrise over the Sea of Fog is a sight to behold! The scenery is worth getting up early. You can also enjoy the night view if you come earlier and wait for the sunrise.


Address: Miyoshi City, Awaya Town (15 minutes by car from JR Miyoshi Station)
Taishaku Gorge
Taishaku Gorge is an 18 km long canyon located in the northern part of Hiroshima Prefecture and is designated as a national park.



The gorge is known for its karst plateau, formed by the erosion of limestone rocks. You can also observe a natural bridge "Onbashi" which is designated as a natural monument, the beautiful "Dangyokei Gorge", limestone cave "Hakuun", and Lake Shinryu.



There are three main areas in Taishaku Gorge: the "Upper Taishaku area" where you can look at the karst plateau and limestone caves, the "Lake Shinryu area" where you can enjoy kayaking, pleasure boat activities, and autumn colors sceneries, and the rest is "sightseeing area". In addition to activities in the wilderness, there are also historic buildings in the surrounding sightseeing spots, you can get to within the walking distance.


Address: Jinsekikogen Town, Jinseki District (Take a high-speed shared bus (from Hiroshima Station / Hiroshima Bus Center) and get off at Tojo Station. Take a taxi to Kamiteishakukyo: about 20 minutes)
Daishoin temple (Hatsukaichi City)
Most people think of Itsukushima Shrine when they think of Miyajima, but when you visit Itsukushima Shrine, we recommend walking a little further to Daishoin Temple. Daishoin is the oldest temple on Miyajima Island and is the main temple of the Omuro school Shingon sect. It was founded in 806 by Kukai, who practiced asceticism at Mt. Misen. It is popular as a spot where you can feel a great power, these places are called "power spot" in Japan.


The "Indelible fire" in the Reikado temple seems to be the fire that remained Kukai times1200 years ago. This Fire's Spirit is also the source of the "Tomoshibi Fire" in Hiroshima Peace Park. There are many other attractions such as the fantastic Henjo Cave, the ordination platform of Mirokudo, the Tibetan Buddhist sand mandala, and the 500 Arhats, all of which can be viewed for free.



Address: 210 Miyajima Town, Hatsukaichi (6 minutes walk from Miyajimaguchi Pier (JR Sanyo Main Line / Miyajimaguchi Station) to Miyajima by JR Miyajima Route or Miyajima Matsudai Sightseeing Ferry. About 30 minutes walk from Miyajima Pier)
Ondonoseto Park (Kure City)
"Ondonoseto Park" is a park overlooking the strait Ondonoseto, which is said to have been opened by Taira no Kiyomori as a new trade route. The arch bridge "Ondoo Bridge" over the strait is said to be vermilion after the vermilion color of Itsukushima Shrine, which was built by Taira no Kiyomori.



From the end of March to the beginning of April, about 2,300 cherry trees are in full bloom, and many local people, as well as tourists, visit this area. Also, from late April to early May, about 8,300 azaleas are in bloom, providing a wonderful sight that matches the vermilion Ondo Bridge. This is a great place to visit a few times and observe the scenery of each season.


Address: Kure City Kegoya (about 25 minutes from Hiroshima Kure Road (Claire Line) Kure IC)
In this article, we introduced you to some of the best sightseeing spots in Hiroshima. There are many good places in Hiroshima that are still unknown to the public. Please refer to the above when you visit Hiroshima.



* This is the information as of July 2021.

* Please note that the situation is subject to change due to the effects of the new coronavirus. Please check the official websites for the latest information.


Recommended Hotels Around:
Recommended hotels for this article
Monthly archive
2023(1)

2022(12)

2021(3)

2020(2)

2019(15)

2018(16)

2017(14)

2016(23)

2015(9)
SOTETSU HOTELS CLUB
Great Value Cashback Membership Program
Numerous Benefits!