5 Best Sightseeing Spots Near Hiroshima Station!
2021.07.13
Sightseeing Spot
5 Best Sightseeing Spots Near Hiroshima Station!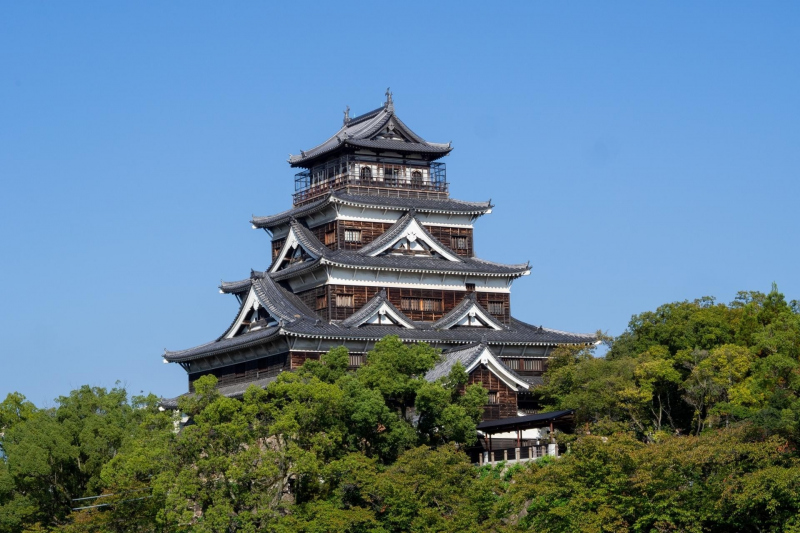 There are many things to see and to do in Hiroshima, including visiting Itsukushima Shrine, which is registered as a World Heritage Site, and the Atomic Bomb Dome. In this article, we'll introduce you to some of the best sightseeing spots near Hiroshima Station.
Shukkeien Garden
It is a garden with a long history built by Nagaakira Asano, the first daimyo (feudal lord) of the Hiroshima han (domain). The garden was created to imitate China's world-famous scenic spot "West Lake". The name "Shukkeien" is the preface of a poem written by Confucian scholar Hayashi Razan at the request of the second feudal lord, Mitsuakira: "Shrink the seas and mountains to the land and gather the scenery in this tower.


It is a strolling garden where you can enjoy ponds, valleys, and bridges with large and small islands. In the park rich in nature, you can enjoy seasonal flowers throughout the year.



Address: 2-11 Kaminobori Town, Naka-ku, Hiroshima City (Short walk from the "Shukkeien-mae" stop on the Hakushima Line tram)

Opening hours: (Admission is 30 minutes before closing)

    April 1 - September 30 (9:00 - 18:00)
    October 1 - March 31 (9:00 - 17:00)
Hiroshima Toshogu Shrine
This shrine was built by Mitsuakira Asano, lord of the Hiroshima domain, to worship Tokugawa Ieyasu. A beautiful vermilion-painted shrine was built at the foot of Mt. Futabasan, in the direction of the northeast of Hiroshima Castle. The main shrine and pavilion were destroyed by the atomic bomb, but they were rebuilt to their current appearance.



The Karamon Gate, the Winged Corridor (Yokuro), Ceremonial water basin (Chozuya), and the Honjido hall are designated by Hiroshima City as important tangible cultural properties. You can see the characteristic features of the architecture of the early Edo period from the colorful Karamon Gate, carved with openwork.



Address: 2-1-18 Futabanosato, Higashi-ku, Hiroshima City (8 minutes walk from the Shinkansen exit of JR Hiroshima Station)
Hiroshima Castle
The castle was built by Mori Terumoto in 1589 and is designated as a national historic site. The castle tower was destroyed by the atomic bomb in 1945, and only Honmaru, Ninomaru, and Uchibori castle parts remain. The exterior was restored in 1958, and the interior was renovated in 1989 to commemorate the 400th anniversary of the construction of the castle.


At the History Museum, you can learn about the structure of Hiroshima Castle and the culture of the castle town, there are some special exhibitions hold here as well. The castle is a popular spot for locals and foreign tourists, you can take a commemorative photo wearing costumes of old times such as helmets and jinbaori (sleeveless campaign jacket worn over armor).



Address: 21-1 Motomachi, Naka-ku, Hiroshima City (about a 15-minute walk north from the "Kamiyacho Higashi" Tram Stop)

Open hours: March - November 9:00 - 18:00, admission until 17:30
     December-February: 9:00-17:00, admission until 16:30
Closed: Year-end (December 29 - 31) *Temporary closures may occur.
Mazda Stadium
The official name is "MAZDA Zoom-Zoom Stadium Hiroshima". It is a new stadium in Hiroshima that opened in 2009 and is the home of the baseball team Hiroshima Toyo Carp. Open stadium with natural grass is a great place to visit if you are a baseball fan, but even if you are not familiar with the rules of baseball, you still can enjoy it as a sightseeing spot with flying balloons and try the stadium gourmet called "carp rice".


There are also many Carp-related restaurants in the vicinity of Mazda Stadium you can give a try.


Address: 2-3-1 Minami-Kaniya, Minami-ku, Hiroshima City (10 minutes on foot from the south exit of JR Hiroshima Station)
Hiroshima Prefectural Art Museum
The Hiroshima Prefectural Art Museum, located next to the Shukkeien Garden, opened in 1968 as the first public art museum in the Chugoku region. The museum has an extremely large collection of approximately 5,000 works, including several artists related to Hiroshima. The "Imari porcelain" and Salvador Dali's "Dream of Venus", the most important cultural properties of the country are must-see works.



The exhibition changes about four times a year, and many repeat visitors come back again and again. The museum also holds special exhibitions about six times a year that should not be missed. The museum also has restaurants, cafes, and shops, making it a popular spot for a day off.




Address: 2-22 Kaminobori Town, Naka-ku, Hiroshima City (get off at "Shukkeien-mae" tram stop on the Hakushima line)

Opening hours: 9:00-17:00 (admission is 30 minutes before closing)
     Open until 20:00 on Fridays until September 26, 2021
     Open until 19:00 on Fridays from September 27, 2021
Closed: Mondays, Year-end and New Year holidays (Dec. 25 - Jan. 1)
* Some special exhibitions exclude during the exhibition period, public holidays, and transfer holidays.
What did you think? We have introduced some sightseeing spots near Hiroshima Station and hope it will help you to make great holidays when you come to visit Hiroshima.



This is the information as of July 2021.

* Please note that this information is subject to change depending on the situation of the new coronavirus infection.
 Please check the official website of each facility for the latest information.

Recommended Hotels Around:
Recommended hotels for this article
Monthly archive
2023(1)

2022(12)

2021(3)

2020(2)

2019(15)

2018(16)

2017(14)

2016(23)

2015(9)
SOTETSU HOTELS CLUB
Great Value Cashback Membership Program
Numerous Benefits!