5 Recommended Tourist Spots in Nagano to Visit in Winter
2020.02.10
Sightseeing Spot
5 Recommended Tourist Spots in Nagano to Visit in Winter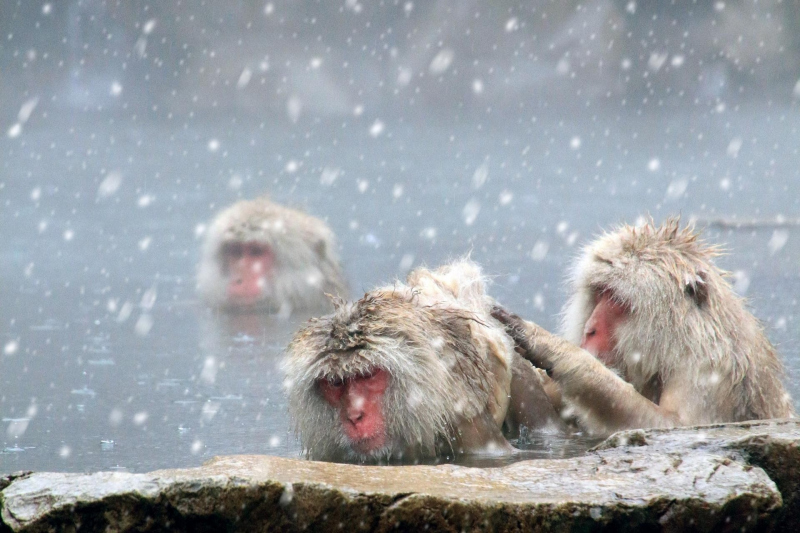 Nagano Prefecture is blessed with rich nature, and there are many sightseeing spots you can enjoy in winter. In this article, we'll take a look at some of the best winter sightseeing spots that are great for the winter holidays. (This information is current as of February 2020)
Shibu Onsen
Shibu Onsen is one of the most plentiful hot springs in Nagano Prefecture, which is known as the "Kingdom of Hot Springs". There are many sources of hot spring water, and all of the hotels and open-air baths in the town are 100% free-flowing. The stone-paved streets of the hot spring town are full of photogenic spots. Within walking distance of Shibu Onsen is the "Jigokudani Yaen-Koen", where a group of Japanese monkeys lives in their natural habitat. In the winter, the park becomes a popular place to see the monkeys bathing in hot spring water, a rare scene in the world.


Address: Hirakazumi, Yamanouchi Town, Shimotakai District, Nagano Prefecture (get off at Yudanaka Station on the Nagano Electric Railway, 5 minutes by taxi from Yudanaka Station)
Hakuba Village
Hakuba Village is the host of the 1998 Winter Olympics and is popular as a world-famous mountain resort. Snowfall during the winter season averages 11 meters, and the silky powder snow is perfect for enjoying winter sports such as skiing and snowboarding. There are 10 ski resorts in Hakuba Village offering a variety of courses for both beginners and advanced skiers. For those who want to enjoy the resorts to their heart's content, we recommend a common one-day lift ticket that can be used at 10 ski resorts.



Address: Oaza Kitashiro, Hakuba Village, Kita-Azumi District, Nagano Prefecture (JR Oito Line "Hakuba" Station)
Lake Suwa
Surrounded by rich nature, there are many things to do around Lake Suwa during winter. Lake Suwa freezes completely in the midwinter, and when the temperature is about 10 degrees below zero for several days, cracks run through the water on the surface of the lake, which can no longer withstand the expansion, and a mysterious phenomenon called "Omiwatari," when the ice rises like a mountain range, can be seen. Omiwatari means a sacred path that God goes through, and when the phenomenon comes up a Shinto ritual "observation ceremony" is held by the priest to confirm God's appearance. Another winter tradition "Wakasagi fishing" is a popular event even beginners can easily challenge. All the tools can be rented here, so you can come without any preparations.


Address: Suwa City, Nagano Prefecture (about an 8-minute walk from "Kami-Suwa Station" on the JR Chuo Line)
Matsumoto Castle
Matsumoto Castle is a beautiful black castle, one of the five national treasures, and one of the most popular sightseeing spots in Matsumoto. The silhouette of the black castle in the pure white snow is a stunning view. The "Ice Sculpture Festival" is held every year, here you can enjoy craftsmen from Japan and abroad creating beautiful ice sculptures.


Address: 4-1 Marunouchi, Matsumoto City, Nagano Prefecture (a 20-minute walk from "Matsumoto Station" on the JR Line)


Opening hours: 8:30 - 17:00 (last admission 16:30) *Changes according to the season
Iiyama City
Iiyama City is located in the northernmost part of Nagano Prefecture and is famous as one of the heaviest snowfall area in Japan. It is blessed with rich nature and you can feel the original scenery of the Japanese hometown. The Iiyama Snow Festival is held every winter, entertains tourists with snow sculptures of various sizes made by citizens around the main venue.



Address: Iiyama, Iiyama City, Nagano Prefecture (JR Hokuriku Shinkansen "Iiyama Station")

When you come to Nagano during the winter holidays, please visit these wonderful places mentioned above.



Recommended Hotels Around:
Recommended hotels for this article
Monthly archive
2022(7)

2021(3)

2020(2)

2019(15)

2018(16)

2017(14)

2016(23)

2015(9)
SOTETSU HOTELS CLUB
Great Value Cashback Membership Program
Numerous Benefits!
Membership program renewal on September 28, 2021
From point program to cashback!