Best Tourist Spots in Nagano Prefecture Such as Zenkoji Temple
2019.06.11
Sightseeing Spot
Best Tourist Spots in Nagano Prefecture Such as Zenkoji Temple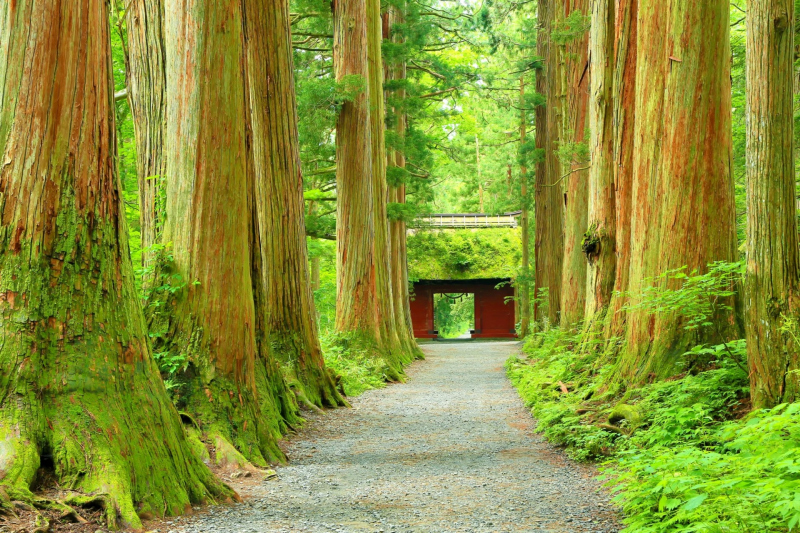 Nagano Prefecture is blessed with abundant nature, including the beautiful green Kamikochi, Karuizawa, a famous summer resort, and the mountains of the Alps, but it also has many tourist attractions, such as Zenkoji Temple, where Japanese people usually say that you should visit Zenkoji once in your life. In this article, we'll introduce you to some of the best sightseeing spots you should visit on your trip to Nagano. (Information as of June 2019)
Zenkoji Temple
Zenkoji Temple is a temple whose principal deity is "Ikkosanzon Amida Nyorai" and has been healing people's hearts for about 1400 years since its foundation. It is said that if you visit the temple once, you will go to the Pure Land of Ultimate Bliss, and it is a power spot known for its many blessings. The temple is a non-denominational temple that does not belong to any particular religion, making it easy for anyone to visit, and it is said that 6 million people visit the temple every year. The statue of the principal deity, Amida Nyorai, is considered to be an absolute secret, but once every seven years, the temple holds the "Gokaicho," a ceremony in which the principal deity is open to the public. More than 7 million people visit the temple during the two-month period of the Gokaicho, making it a very popular place. In addition to the main hall designated as a national treasure, you can see many important cultural properties up close, and it is a place where you can experience the history and culture of Japan.

Address: 491 Naganomotoyoshicho, Nagano (Take a bus from JR "Nagano Station". Get off at "Zenkoji Daimon" bus stop)

Visiting hours: You can visit the precincts all day, and the main hall is from around 5:00 to 16:30 (it changes depending on the sunrise and sunset).

     Zenkoji Historical Museum, Sanmon Toro and Keizo are open from 9:00 to 16:00.
Togakushi Shrine
Togakushi Shrine is located at the foot of Mt. Togakushi, which is said to have been formed by the flight of "Amano-Iwato" in Japanese mythology. Togakushi Shrine consists of five shrines: Okusha (Upper Togakushi Shrine), Chyu-sha, Hoko-sha, Kuzuryu-sha, and Hinomiko-sha. The path that goes around the five shrines from the first Torii gate to the inner shrine is known as "Togakushi Kodo" and is popular for mountain walks. The air that fills this unexplored area is refreshing, and the nearby Kagami-ike pond is a sightseeing spot that should not be missed. Each of the five shrines has a different special red stamp, so once you visited all the buildings you can collect all the red stamps.


Address: 3506 Togakushi, Nagano City, Nagano Prefecture (Take a bus from JR "Nagano Station". Walking from Togakushi Chusha-mae, Togakushi Nakasha-mae, Togakushi Okusha bus stops)

Opening hours: Open all day (Goshuin - book of seal stamps - is available from 9:00 to 17:00, but the opening hours change in winter)
Suwa Taisha Shrine
Suwa Taisha is the Grand Head Shrine of the Suwa Shrines throughout Japan. The deity is Suwa Myojin and it is known as a very old shrine with roots in the Jomon period. The features are that there is no main shrine, but there are four precincts around Lake Suwa: "Kamisha Honmiya", "Kamisha Maemiya", "Shimosha Akimiya", "Shimosha Harumiya" and four pillars called "Onbashira" set up around the shrine. These pillars are rebuilt every seven years, in the year of the Tiger and the year of the Monkey, and a festival called the "Onbashira Festival" is held to pull the 16 large trees cut from the mountains to the shrine buildings. The festival is known as one of the three most fantastic festivals in Japan.



Addresses: 1 Nakasu Miyayama, Suwa City, Nagano Prefecture (Kamisha Honmiya), 2030 Miyagawa, Chino City, Nagano Prefecture (Kamisha Maemiya), 5828 Shimosuwa-cho, Suwa-gun (Shimosha Akimiya), 193 Shimosuwa-cho, Suwa-gun (Shimosha Harumiya) (by bus or on foot from JR ''Chino Station'', Kamisuwa Station, or Shimosuwa Station)


Visiting hours: All day worship available
Matsumoto Castle
Matsumoto Castle is said to be the predecessor of Fukashi Castle, which was built in the Eishou era during the Warring States period. The quintuple, six-storied wooden castle tower, with its splendid contrast of black and white, is the oldest existing castle in Japan and is designated as a national treasure. You can visit the castle tower, and it takes about 60 minutes to complete the tour. In the Honmaru Garden, dressed in costumes of princes and ninja characters will help you to take commemorative photos.


Address: Marunouchi 4-1, Matsumoto City, Nagano Prefecture (15-minute walk from JR Matsumoto Station)


Opening hours: 8:30 - 17:00 (last admission 16:30, depending on the season)
Daio Wasabi Farm
Daio Wasabi Farm is the largest wasabi farm in Japan, that uses the clear snowmelt water of the Northern Alps in the rich nature of Azumino City. In the vast wasabi field, there are facilities such as the Centennial Memorial Hall and the Alps Observatory, built to commemorate the 100th anniversary of the farm's development, as well as Soba and other restaurants, and experience studios. Admission is free, adults and children can enjoy it the whole day.


Address: 3640 Hotaka, Azumino City, Nagano Prefecture (10 minutes by taxi from Hotaka Station on the JR Line)


Opening hours: March - October, 9:00 - 17:20

      November - February, 9:00 - 16:30
Jigokudani Wild Monkey Park
The Jigokudani Yaen-koen (Jigokudani Monkey Park) is where wild Japanese macaques live, which is familiar with the images of Japanese macaques grouping in hot springs during the cold snowy season. The main purpose of the park is to preserve and observe the natural ecosystem, so it is a valuable facility where you can see wild monkeys up close, which are different from those in zoos.


Address: 6845 Hiranoumi, Oaza, Yamanouchi-machi, Shimotakai-gun, Nagano Prefecture (Take a bus from JR Nagano Station. Get off at Kanbayashi Onsen bus stop and walk 35-minute)

Opening hours: Summer (April - October 8: 30-17: 00)

Winter (November - March, 9:00 to 16:00)

* Summer/Winter periods and business hours may change without notice, depending on the weather, season, behavior of Japanese macaques, etc.
We have introduced some of the best sightseeing spots in Nagano Prefecture. Whether you want to visit shrines and temples or take a walk in nature, why not drop by while visiting Nagano Prefecture?




Recommended Hotels Around:
Recommended hotels for this article
Monthly archive
2023(4)

2022(12)

2021(3)

2020(2)

2019(15)

2018(16)

2017(14)

2016(23)

2015(9)
SOTETSU HOTELS CLUB
Great Value Cashback Membership Program
Numerous Benefits!