Top 6 Recommended Souvenirs in Nagano Prefecture!
2019.06.25
Sightseeing Spot
Top 6 Recommended Souvenirs in Nagano Prefecture!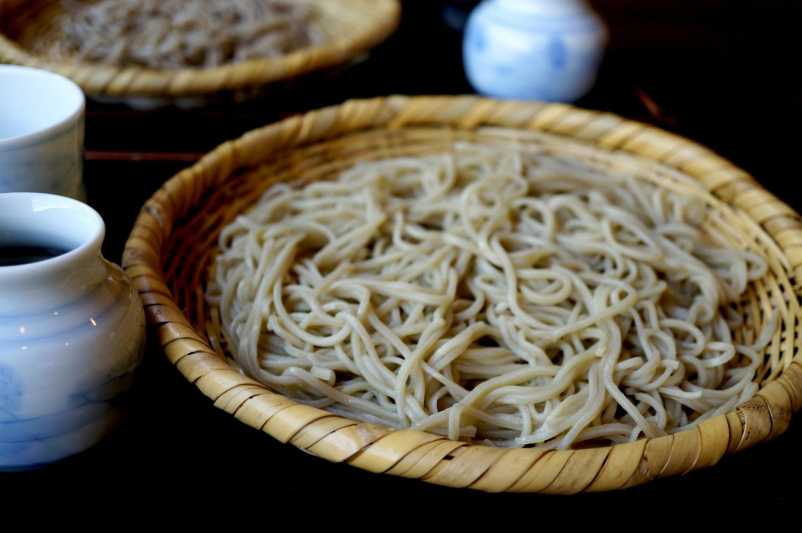 When it comes to souvenirs from Nagano Prefecture, Japanese people usually think about apples and buckwheat noodles, which are cultivated to take advantage of the cool climate, as well as traditional sweets that have been loved for over 100 years. It's hard to choose just one, but we've carefully selected six of the best souvenirs to introduce to you. (Information as of June 2019)
Soba (Shinshu soba, Togakushi soba)
One of the foods you can't miss in Nagano is soba (buckwheat), which has been cultivated for centuries. "Shinshu soba" and "Togakushi soba" are the most famous here. "Shinshu soba" is made from more than 40% buckwheat flour grown and produced in Nagano Prefecture. "Togakushi soba" is one of the three major buckwheat noodles in Japan, and it is made from "ground buckwheat" buckwheat flour that is ground with the cuticles of the buckwheat, and it is served without draining too much. You can choose either one according to your taste, or buy both and compare them later. You can buy it at souvenir shops, JR Nagano Station premises, Nagano Electric Railway shops, and Nagano Station building "
MIDORI
".
Oyaki
Oyaki is one of the local dishes in Nagano. It is made by kneading wheat flour or buckwheat flour with water to make a crust, then wrapping bean paste (ingredients) made from Nozawana, and baking it. Each shop has its own unique style of baking and steaming. The most famous shop in the prefecture, "
Iroha-do
", and "
Ogawa-no-sho
", which is known for its Jomon Oyaki. You can buy them at each store, or at the kiosk of JR Nagano Station, or at MIDORI, the station building at Nagano Station.
Nozawana pickles
Nozawana pickles, which are also used as Oyaki's bean paste ingredient are representative of Nagano, the birthplace of Nozawa Onsen. It is pickled until it becomes sour, or fried in oil, and has a wide variety of flavors. Nozawana pickles are delicious not only with rice and sake but also with fried rice (chahan) or stir-fried dishes. You can buy it at a long-established pickle shop, a shop inside the JR Nagano Station, or at the Nagano Station Building "MIDORI".
"Misuzu-Ame" candy from "Iijima Shoten" Shop
It is one of the representative sweets of Nagano prefecture that has been made by the same manufacturing method since the end of the Meiji era. The fruit juice is squeezed from domestically produced fruit and hardened into a jelly-like texture using agar, granulated sugar, and syrup. Every candy is hand-made, safe, fragrance-free, and color-free. You can enjoy the flavor of apples, apricots, grapes, and other fruits as they are, and it is recommended as a souvenir for small children. You can buy them at the Iijima Shoten Ueda Honten in Ueda City and at the MIDORI station building in Nagano Station.
Chikuma Confectionery Apple Pie
Chikuma Confectionery Apple Pie is a pastry made from a whole apple (Fuji), which is widely grown in Nagano Prefecture, soaked in honey, filled with sponge cake, and wrapped in a pie. The crunchy texture of the apple is the key to its deliciousness. It is available at JR Nagano Station and JR Matsumoto Station.
Coffee in Karuizawa
Karuizawa, known as a summer resort, is home to a number of coffee shops, including
Maruyama Coffee
,
Mikado Coffee
, and other popular coffee shops. The most popular souvenirs are coffee blends that show the individuality of each shop. If you want to compare two drinks, visit Maruyama Coffee Harunire Terrace and Mikado Coffee Karuizawa Tsuruya, they are relatively close to each other.
We have introduced some of the recommended souvenirs in Nagano Prefecture. If you are visiting for sightseeing or a business trip, it is recommended to buy them for your family and friends as well as for yourself. If you are traveling by train, check out the souvenirs around Nagano Station, or if you are traveling by car, check out the souvenirs at service areas and roadside stations.
Recommended Hotels around:
Recommended hotels for this article
Monthly archive
2023(1)

2022(12)

2021(3)

2020(2)

2019(15)

2018(16)

2017(14)

2016(23)

2015(9)
SOTETSU HOTELS CLUB
Great Value Cashback Membership Program
Numerous Benefits!