Recommended New Year's Pilgrimage Spots in Kanagawa
2018.12.25
Sightseeing Spot
Recommended New Year's Pilgrimage Spots in Kanagawa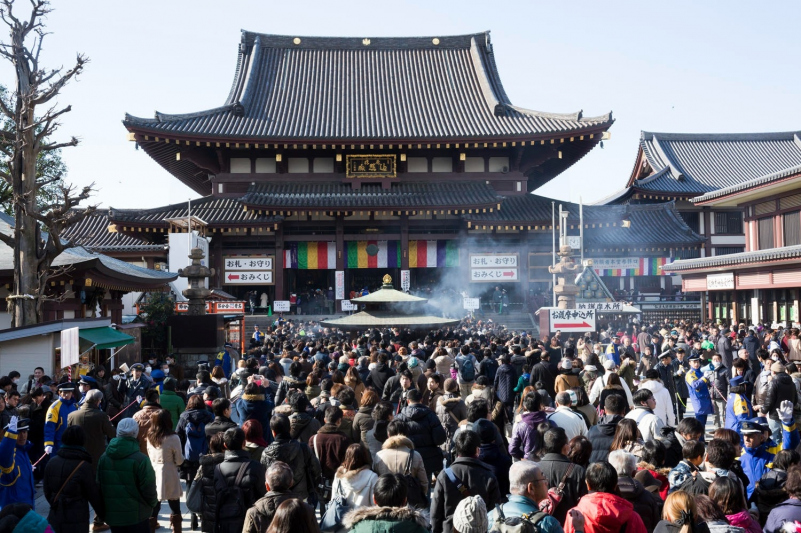 Hatsumode is the first Buddhist temple or Shinto shrine visit of the Japanese New Year. There are many Hatsumode spots in Kanagawa Prefecture, and they are crowded with worshippers during the year-end and New Year holidays. In this article, we will introduce some of the recommended New Year's Pilgrimage spots in Kanagawa Prefecture. (Information as of December 2018)
Enoshima Shrine
Enoshima Shrine is located on Enoshima Island in Fujisawa City, Kanagawa Prefecture, and is dedicated to the goddess Benten, one of the three great Benzaiten (goddesses of good fortune) in Japan. The three goddesses of Munakata, Takiribime, Ichishikimahime, and Tagitsuhime, are also enshrined here and can be expected to bring not only good luck with money but also good luck in marriage and marital bliss.



After watching the sunrise on Enoshima Island, many people visit Ejima Shrine, it might be quite crowded in the early morning on New Year's Day, so be prepared.



Address: 2-3-8 Enoshima, Fujisawa City, Kanagawa Prefecture (about 20 minutes walk from the Katase Enoshima Station on the Odakyu Line, Enoshima Station on the Enoshima Electric Railway, or Shonan Enoshima Station on the Shonan Monorail)
Kawasaki Daishi
Kawasaki Daishi is the head temple of the Chizan sect of Shingon Buddhism in Kawasaki City, Kanagawa Prefecture, officially known as Heikenji Temple.
Built in 1128, the temple has a long history and is especially known for its blessings to ward off bad luck, attracting many visitors for New Year.
During the New Year period, about 3 million people visit the temple every year, making it a popular New Year's visit spot comparable to Meiji Shrine in Tokyo.



Address: 4-48 Daishi-cho, Kawasaki-ku, Kawasaki City, Kanagawa Prefecture (8-minute walk from Kawasaki Daishi Station on the Keikyu Daishi Line)
Tsurugaoka Hachimangu Shrine
Tsurugaoka Hachimangu Shrine is located in Kamakura City, Kanagawa Prefecture, and was originally built in 1063 as a Hachimangu shrine associated with the Minamoto clan. It is one of the most popular shrines in Japan and attracts about 2.5 million visitors every year.

The grounds of the shrine are large and worth seeing, but it is very crowded with New Year's visitors. During the peak season, you may have to wait for several hours at the entrance of the shrine, so be sure to use the restroom and protect yourself from the cold.


Address: 2-1-31 Yukinoshita, Kamakura City, Kanagawa Prefecture (10-minute walk from Kamakura Station on the JR Line)
Hakone Shrine (Kuzuryuu Shrine)
Hakone Shrine is located in Hakone Town, Ashigarashimo District, Kanagawa Prefecture, and is dedicated to the deities Ninigi no Mikoto, Konohanasakuya Hime no Mikoto, and Hikohohodemi no Mikoto, all of whom are known as Hakone Okami (Gods of Hakone).

Due to its remoteness from the city center, the number of visitors on New Year's Day is usually only about 100,000 people, but from New Year's Eve to New Year's Day, it is so crowded that you will need to wait. It is also very cold at night and in the morning due to the mountainous area, so be sure to bring warm clothes.



Address: 80-1 Motohakone, Hakone Town, Ashigarashimo-gun, Kanagawa (Odakyu Hakone Express Bus "Yama no Hotel" about 3 minutes on foot)
Hongakuji Temple
Hongakuji Temple is a Nichiren Shu temple located in Kamakura City, Kanagawa Prefecture, and was founded in 1436 by Nisshitsu Shonin. It is easily accessible from Kamakura Station.

On the 3d New Year's day, the "Hatsu Ebisu" festival is held, and on January 10th, the "Hon Ebisu" festival is held. The God Ebisu brings blessings to business prosperity. This is a good spot for couples and students, as it is expected to bring good luck in love and academic achievement, as well as for those in business and commerce.




Address: 1-12-12 Komachi, Kamakura City, Kanagawa Prefecture (5-minute walk from Kamakura Station on the JR Yokosuka Line)




We have introduced 5 recommended Hatsumode spots in Kanagawa Prefecture. If you don't know where to go on New Year's night, keep in mind our Top list!



Recommended Hotels Around:
Recommended hotels for this article
Monthly archive
2022(9)

2021(3)

2020(2)

2019(15)

2018(16)

2017(14)

2016(23)

2015(9)
SOTETSU HOTELS CLUB
Great Value Cashback Membership Program
Numerous Benefits!
Membership program renewal on September 28, 2021
From point program to cashback!