Recommended Lunch Spots in Ginza
2016.10.06
Sightseeing Spot
Recommended Lunch Spots in Ginza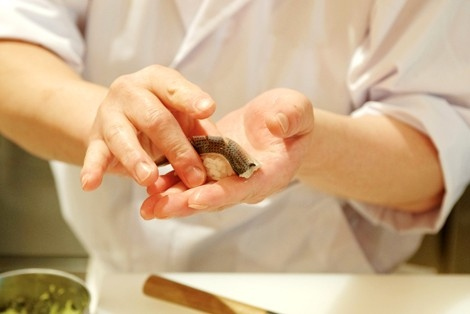 Ginza is not only a place for sightseeing and shopping, but it is also one of the most gourmet districts in Tokyo. In particular, the lunches are reasonably priced, yet offer a wide variety of choices that are typical for Ginza. In this article, we will introduce some recommended lunches in Ginza that you won't want to miss.
(Information as of October 2016)
Sushi Ishijima
Many people may associate Ginza with sushi. The
Sushi Ishijima
is known for offering authentic sushi as an affordable lunch among many other famous restaurants. At night, the restaurant charges 15,000 to 20,000 yen per customer, but the lunch menu is as cheap as 1,500 yen each for nigiri and barachirashi, and 4,000 yen for omakase sushi. It is not unusual to see a line of people waiting to get in at lunchtime. The ingredients, the craftsmanship, and the atmosphere are all perfect. The restaurant is located in a quiet corner of Ginza 1-chome.
Lunch time: 11:30 - 14:00 (weekdays only)
Access: 3-minute walk from Shintomicho Station on the Tokyo Metro Yurakucho Line (1-24-3 Ginza, Chuo-ku, Tokyo)
Paradise Dynasty
A Chinese restaurant with its head office in Singapore landed in Japan in 2013, and its first Japanese restaurant is
Paradise Dynasty
in Ginza. The specialty of the restaurant is the "8 Colored Shoronbao", which includes different colors and flavors of shoronbao, such as black truffle, foie gras, Korean ginseng, and crab roe. "The "Paradise Lunch" includes a set of three original xiao longbao for 980 yen and a set of eight color xiao longbao for 1,850 yen. These sets include xiao long bao, rice, soup, and a mini dessert. You will enjoy not only the taste but also the unique atmosphere of the spacious basement.
Lunch Time: 11:00 - 16:00
Access: 1 minute walk from Ginza Station on the Tokyo Metro Ginza, Hibiya, and Marunouchi Lines (1F and B1F, 3-2-15 Ginza, Chuo-ku, Tokyo)
Restaurant Dominique Bouchet Tokyo
Dominique Bouchet Tokyo
is an authentic French restaurant that opened in Ginza in 2013 and was awarded two stars in the Michelin Guide published that year. Dominique Bouchet is a chef who has served as executive chef at such renowned restaurants as the Toule d'Argent and the Hotel de Crillon in Paris, and in 2015, Dominique Bouchet Tokyo moved to the second floor of a building in Ginza 1-chome. The restaurant offers three courses for lunch: "Coquelicot" 6,200 yen, "Margaret" 8,500 yen, and "Chef's Choice Menu" 12,500 yen. Inheriting the past and based on the concept of "gastronomy Hermitage," enjoy the taste of traditional yet contemporary French cuisine.
Lunch time: 12:00 - 13:30 (L.O.)
Access: 5-minute walk from Ginza Station on the Tokyo Metro Ginza, Hibiya, and Marunouchi Lines (2F Renga-dori Fukujin Building, 1-5-6 Ginza, Chuo-ku, Tokyo)
Coffee shop YOU (Kissa YOU)
Kissa YOU
in Ginza is very famous for its omelet rice for lunch. The fluffy and tender omelet is served on top of nostalgic tasting chicken rice, which can be said to be the original fluffy and tender style omelet. The restaurant has been in business for 40 years, and because of its proximity to the Kabuki-za Theater, many Kabuki actors patronize the restaurant. In addition to Neapolitan, stewed hamburger steak, sandwiches, and other dishes, we also recommend the coffee blends and other beverages that only a coffee shop can offer.
Lunch Time: 11:30 - 15:00
Access: 1 minute walk from "Higashi-Ginza Station" on the Tokyo Metro Hibiya and Toei Asakusa Lines (1F Takano Building, 4-13-17 Ginza, Chuo-ku, Tokyo)
Aux Amis des Vins
Aux Amis des Vins
is a casual French restaurant and wine bar that opened in 1997. Until July 2016, it was a three-story restaurant built in a renovated house, but due to an urban development project, it moved to the second to fourth floors of a nearby building on August 4 and continues to operate. The restaurant offers three courses for lunch: 2,500 yen, 3,500 yen, and 5,000 yen (tax not included). On weekdays, you can also choose the 1,100 yen weekday-only course in addition to these. It is also nice to know that there is a wide selection of wine, including wine by the glass. It is a popular restaurant and it is safe to make a reservation for lunch time except for the weekday-only course.
Lunch time: 11:20 - 14:00 (L.O.), 11:20 - 15:00 (L.O.) on weekends and holidays
Access: 2-minute walk from Ginza 1-chome Station on the Tokyo Metro Yurakucho Line, 4-minute walk from Yurakucho Station on the JR Line (Ginza Ozami Building 2F, 1-4-9 Ginza, Chuo-ku, Tokyo)
Eating a delicious lunch is one of the most enjoyable things to do when visiting Ginza. Please consider these restaurants as candidates for your lunch.
Recommended Hotels Around:
Recommended hotels for this article
Monthly archive
2023(1)

2022(12)

2021(3)

2020(2)

2019(15)

2018(16)

2017(14)

2016(23)

2015(9)
SOTETSU HOTELS CLUB
Great Value Cashback Membership Program
Numerous Benefits!