A Must-See Spots for Girls' Trip! Power Spots in Tokyo Related to Love
2016.07.12
Sightseeing Spot
A Must-See Spots for Girls' Trip! Power Spots in Tokyo Related to Love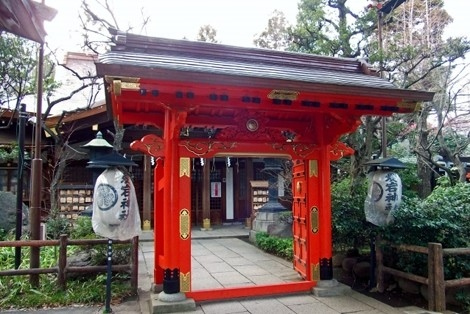 In general, people tend to think that shrines and temples for matchmaking are mostly located in rural areas, but in fact, there are surprisingly many such places in Tokyo. There are many such places in Tokyo, and you can get the same benefits as the famous spots in the provinces while you are in Tokyo. In this article, we'll introduce you to some power spots in Tokyo that are good for your love life.
Izumo Taisha Tokyo
Speaking of Izumo Taisha, it is especially famous as the god of marriage in Shimane Prefecture. However, it may not be well known that there is
a branch shrine of Izumo Taisha
in Tokyo as well. The shrine has the same deity as the head office as a spirit. The Tokyo branch shrine located in Roppongi also has the same benefits as Izumo Taisha. The "Musubi no Ito", which is popular with visitors, is said to be blessed with good ties if it is attached to clothes and accessories that are often worn.
Access: 7-18-5 Roppongi, Minato-ku, Tokyo
1-minute walk from Roppongi Station on the Tokyo Metro Hibiya Line.
Tokyo Daijingu (the Grand Shrine of Tokyo)
Tokyo Daijingu
was created as a farewell hall to the Ise Jingu Shrine and has been popularly known as the "Oise-sama of Tokyo". It's a shrine with a long history, but the heart mark on the roof of the shrine and other unexpected places is really cute.
Some of the love fortunes are unique, such as the one with a Japanese paper doll and love advice written on it, or the one with a scented Japanese poem about love. In addition, there are many other items such as "knotting cards" to pray for love, "love success and happiness key amulets" in the shape of keys, and "wish letters" where you can write your wishes and put them in a box to have them prayed for. This is a shrine that every girl who is looking for love or marriage should visit at least once.
Access: 2-4-1 Fujimi, Chiyoda-ku, Tokyo
About 5 minutes walk from JR Iidabashi Station.
Atago Shrine
Located at the top of Mt. Atago, 26 meters above sea level,
Atago Shrine
is famous for its "stone staircase for success". The steep staircase in front of the main gate is called "Otoko-zaka," or "man's slope," with 86 steps, and it is said that climbing it all at once will bring you luck in your career (there is also a slightly gentler "onna-zaka" girls slope).
Homusubi-no-mikoto, the main deity of Atago Shrine, is the god of fire, born between the gods Izanagi and Izanami, and is said to be the protector of burning love. If you really want to fall in love with your partner, or if you want to lose yourself in an intense love affair, you may want to make a wish to the god of matchmaking at Atago Shrine.
Access: 1-5-3 Atago, Minato-ku, Tokyo
About a 5-minute walk from Kamiyacho Station on the Tokyo Metro Hibiya Line.
Kanda Myojin Shrine
The famous
Kanda Myojin
shrine, where the Kanda Festival is held, also has something to do with matchmaking. The god of the festival, Okonamuchi-no-mikoto, is the so-called Daikoku-sama, known as the guardian deity of business prosperity, he is also the god of marriage, marriage, and reunion.
However, it is said that Kanda Myojin does not merely connect men and women, but also links their development with each other so that everyone can be happy. It is likely to be a divine virtue to visit when you want to connect various fates and strengthen the connection.
Access: 2-16-2, Sotokanda, Chiyoda-ku, Tokyo
About 5 minutes walk from JR "Ochanomizu" station.
Jindaiji Temple
Located in Chofu City,
Jindaiji Temple
is known as "Jindaiji Daruma City", one of the three major Daruma City in Japan. The reason why it is beneficial for matchmaking and a good marriage is because of Fukuman, the father of Mankou Shonin, who founded Jindaiji Temple. It is said that Fukuman prayed to the water god "Jinja-Daiou" to meet his daughter who was hidden in an island in the lake, and rode a sacred turtle prepared by Jinja-Daiou to the island to make his love come true.
If you make a wish for such a legend, you will feel that even a difficult love will be fulfilled.
Access: 5-15-1 Jindaiji Motomachi, Chofu City, Tokyo
Take the bus from Chofu Station on the Keio Line, get off at Jindaiji, and walk for about 1 minute.
Akasaka Hikawa Shrine
Located in Akasaka,
Akasaka Hikawa Shrine
is dedicated to Susanowo-no-Mikoto. Susanowo-no-mikoto changed a god, Kushiinadahime-no-mikoto, into a comb and put it in his hair to fight against a terrible monster, Yamata-no-orochi. She defeated the monster and saved Kiinada-hime-no-mikoto from being sacrificed, and he welcomed her as his wife. From this anecdote, it was said that Akasaka Hikawa Shrine has the power to bring together men and women. If you visit the shrine, you may eventually have a fateful encounter.
Access: 6-10-12 Akasaka, Minato-ku, Tokyo
About an 8-minute walk from Akasaka Station on the Tokyo Metro Chiyoda Line.
Many of Tokyo's love power spots are easily accessible, making them a great place to stop by. If you are in the area, please stop by and visit these places.
Recommended Hotels Around:
Recommended hotels for this article
Monthly archive
2023(1)

2022(12)

2021(3)

2020(2)

2019(15)

2018(16)

2017(14)

2016(23)

2015(9)
SOTETSU HOTELS CLUB
Great Value Cashback Membership Program
Numerous Benefits!