FAQ
Click here to read about the frequently asked questions (FAQ) on the SOTETSU HOTELS CLUB.
Accommodation / rooms
Can minors stay at the hotel without adults?
Minors are able to stay without adults, but they need to get a permission from their parents. We request to write a consent form to their parents, and minor guests need to print out/submit the form to us when they check in. If they refused to write/submit a consent form, we cannot allow minor guests to stay at our hotel. Please download the consent form below;
Minor Consent Form
Is there a cool box in the room?
The cool box is kept empty for your convenience. However, please note that it does not have a freezer.
The reception does not offer a freezer space either.
If you need ice cubes, please use the ice machine (free) in the laundrette.
Are there connected rooms?
The hotel does not have connectable rooms (rooms connected to adjacent rooms with a door). If you need neighboring rooms, please let us know your preferences after booking, as we do our best to arrange rooms close to each other.
Please note that smoking and non-smoking rooms cannot be arranged on the same floor.
Also, please note that certain room types cannot be arranged on the same floor or close to each other due to structural limitations.
Are rooms connected to Internet?
All rooms are equipped with free wired and wireless LAN (Wi-Fi). LAN cables are installed in all rooms. Wi-Fi is also available in the lobby.
Is there any cell phone charger ?
It is available at the reception desk.
Are there non-smoking rooms?
70% of the guest rooms are non-smoking. The indoor smoking area is located on the 5th floor.
Please list the fixtures and amenity goods in a guest room.
▼Fixtures
TV/ Satellite Broadcasting (Free)/ Refrigerator (Empty)/ Telephone/ Internet Connection (Wi-Fi & Cable LAN)/ Electric Pot/ Dryer/ Trouser Press/ Individual Air-Conditioning/ Toilet with Washer

▼Amenity Goods
Shampoo
Conditioner
Body Soap
Bath Towel
Face Towel
Slipper
Air Freshener
*Other amenities are available for your choice in the lobby.
Is nothing happening even when you press the "Search Booking" button on your smartphone?
If Safari's Content Blocker is enabled on iOS devices such as iPhone and iPad, some content may not be displayed properly.
We apologize for the inconvenience, but please try again after temporarily disabling the content blocker settings on your device.
As of June 2021, the inability to display content has been confirmed with TREND MICRO's "Virus Buster Mobile." However, even if you use other ad blocking apps, you can resolve the issue through the same procedure.


1. Tap "Settings" on your device.
2. Scroll down the screen, then tap "Safari".
3. Tap "Content Blockers".
4. Turn off the app that is displayed on the "Content Blockers Allowed".
※The operation method may vary depending on the device or iOS version. For details, please contact the support desk for your device.
Cleaning of guest rooms for consecutive nights
Do you clean guest rooms everyday?
If you wish for the rooms to be cleaned by our staff, please post the blue-colored card on the door outside by noon. If the card is not posted, please note beforehand that our staff will not enter the room.

If you only wish for new towels, please post the orange-colored card on the door outside by noon.
The towels will be provided in front of the door.

*Due to sanitation concerns, our staff will enter the room for cleaning after every 3 nights of stay, regardless of whether or not the guests have requested for such service. The staff will also enter the rooms for the purpose of room maintenance, legal inspections and for emergencies, even on days where cleaning has not been scheduled. We would appreciate your understanding and cooperation.
*Excluding certain hotel locations.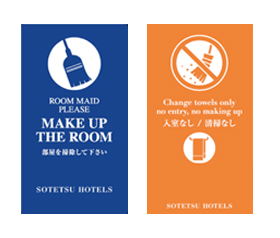 Facilities
Are there vending machines and microwaves in the hotel?
There is a soft drink vending machine on the 8th floor.
Alchol is not served in our hotel.
You would get alchol at the the grocery store Lawson (24h) on the 1st floor.
Microwave is on the 5th floor.
Are thereCoin-operated laundries in the building?
They are available on the 8th floor. You can use two fully automatic washing machines for ¥500 (130 minutes).
Access / Parking
Give me a simple direction to the hotel.
The hotel is a 2-minute walk on the way to Zenkoji Temple from JR Nagano Station. There is a Lawson on the 1st floor. The hotel reception is located on the 5th floor of the commercial complex.
I want to drive to the hotel. Do you have a car park?
The hotel does not have a dedicated car park.
Guests are asked to use neighborhood coin-operated car parks. Special parking rate is only availabe at West Plaza Nagano, a coin-operated car park behind the hotel. Because it is coin-operated, reservation is not available. Spaces are avaialble on first-come, first-served basis.

[West Plaza Nagano Parking]
For location details, please go to "Access" page and check "Car Park Information".
Overnight rate (15:00 - 11:00 next day): 1,000 yen per night (or 100 yen / 30 minutes outside the overnight hours).
The multistory car park can accommodate vehicles up to 2.05m in height, 1.9m in width, 1.8m in width between tyres. The car park cannot accommodate high roof vans and other oversized vehicles.
Entry & exit is not available during the night when the car park is unmanned (23:00 - 7:00 next day).
If you drive a oversized vehicle or need to enter/exit outside the service hours, or if the car park is full at the time of arrival, please find another coin-operated car park in the vicinity.
The hotel is located almost front of Nagano Station, and there are plenty of coin-operated car parks in the vicinity. When you use a nearby car park, please make the payment on your own. The hotel does not cover the difference in price or offer discount.
Our apologies for any inconvenience caused in connection with the parking.
Food/restaurant
Tell me about your breakfast service.
A buffet-style breakfast is available from 7am - 9:30am at 1,100 yen per person (including tax). Reservation is not required.
Staying with children
Do you have beddings for children?
Unfortunately, we do not have beddings for children. If you need a crib, please let us know at the time of booking (free / available only for a limited number).
Up to what age can a child share a bed?
Preschoolers can share beds with adults for free of charge.
Please note that a bed can be shared with one child only.
A single or semi-double room accommodates up to one child sharing a bed, and a twin room accommodates up to two children sharing beds.
Others
Can we leave our luggage before checking in or after checking out?
Left luggage is accepted at the reception.
Do you lock the gate at night?
The hotel is open 24 hours. As elevators to guest rooms are conrolled by card keys, you can bring your card keys with you when going out.
SOTETSU HOTELS CLUB
Great Value Cashback Membership Program
Numerous Benefits!