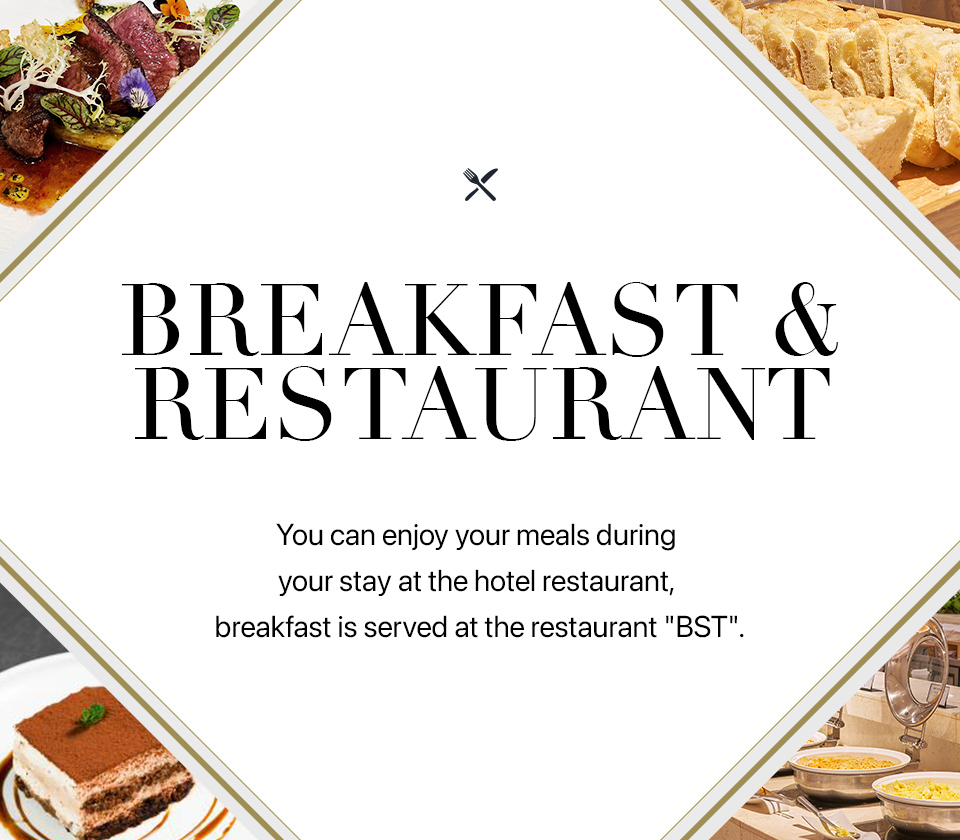 Enjoy a breakfast buffet featuring Western-style dishes.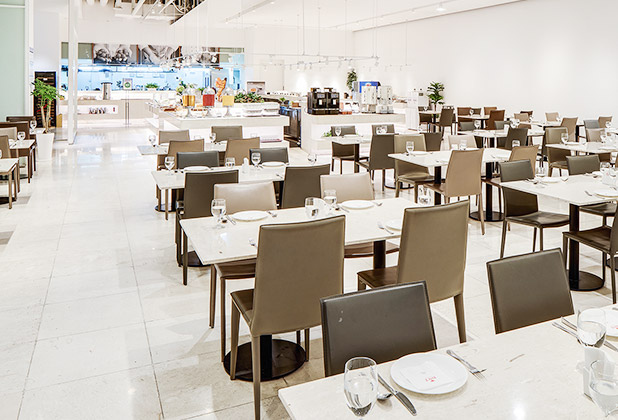 Breakfast is served buffet-style with a daily changing menu of mainly Western-style dishes. Enjoy omelets, fried eggs, and other egg dishes as well as noodles at the live kitchen. Guests wishing to order breakfast may purchase a breakfast ticket at the front desk or at the restaurant.
| | |
| --- | --- |
| Hours | 07:00 a.m. -10:00 a.m. (Last Order 9:30 a.m.) |
| Charge | 19,800 won (tax included) |
The Appeal of BST

A variety of menus for breakfast and lunch at different times of the day
In addition to breakfast, we also serve lunch. The buffet features a wide variety of Korean cuisine, from classic dishes such as bibimbap and tteokbokki to seasonal dishes. Please visit us directly at BST, B1F.

Salads made with fresh ingredients
Be sure to try the Caprese Salad, which combines fresh tomatoes, soft cheese, and savory basil, and the Salmon Salad, which combines tender, fatty salmon with fresh tomatoes and vegetables in a sweet and sour sauce.






La Class
1st floor, back of lobby
Lunch Dinner
Enjoy the restaurant's signature dishes made with quality ingredients.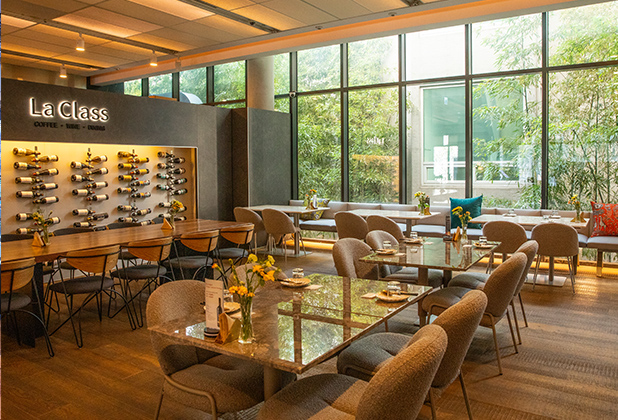 We are an authentic Italian restaurant where you can enjoy the best flavors using the finest ingredients and a selection of wines that go well with La Class cuisine.
Hours
Monday-Friday 8:00 a.m. - 10:00 p.m.
Saturday 9:00 a.m. - 10:00 p.m.
Sunday 9:00 a.m. - 8:00 p.m.
*Open only for drinks from 08:00 a.m. to 11:00 a.m.
*Open only for lunch menu from 11:00 a.m. to 2:00 p.m.
The Appeal of La Class

Comfortable space where you can relax and enjoy our signature dishes.
Enjoy our signature Italian cuisine in an open atmosphere. We provide a comfortable space to suit your occasion.

La Class's best recommended Cuisine
Enjoy our special pastas such as "Manzo Picante Spaghetti," a creamy spicy pasta filled with beef belly, and "Salmon Teriyaki Risotto," a pasta filled with Gorgonzola cheese flavored cream risotto topped with our chef's special teriyaki sauce and salmon. The chef's spicy Genghis Khan "Agnello" with original sauce is also a must-try.
SOTETSU HOTELS CLUB
Great Value Membership Program
Numerous Benefits!