FACILITIES & SERVICES

Facilities
1st Floor

Front desk/lobby

The front desk and lobby are on the first floor. We promise you comfortable stay with smiles of front office staff and their meticulous care.

2nd Floor

Breakfast Venue Restaurant "Sosai Patio"

It is a buffet restaurant for breakfast and lunch, and it is a real Italian restaurant for dinner. You can use this restaurant in all situations. Enjoy the seasonal ingredients carefully selected by the chef and various special creative dishes. You can use private rooms. You can also have various parties, and you can even reserve the entire restaurant.
Please refer here for details.

1st Floor

Café "Banyantree Café"

We serve healthy ethnic dishes from Asian countries such as Thailand, Vietnam, and Indonesia that use plenty of tropical spices and herbs.The standard fresh spring rolls, pho, Tom Yam Kung, Pad Thai, Gapao, and other Asian foods that are well known in Japan are spicy yet have a gentle sweetness and sourness. It's addictive.
Enjoy a relaxing time in the sweet smell of the cafe in the ambiance of visiting a resort in Asia as a date, girl's party, anniversary, dinner party, lunch, cafe, or bar.
Details of lunch menu.

Conference Room / Banquet Room

There are two conference rooms: "Hanaakari" on the second floor with a space of 350 ㎡ and the "conference room" on the first floor with a space of 65 ㎡.
Please refer here for details.

2nd Floor

Convenience Store "LAWSON"

Sake, cigarettes, ATM, etc. are available 24 hours a day.

Umbrella Rental Service

You can rent it for 70 yen per day and return it at the station closest to our hotel.

1st Floor

Free PC Corner

Our guests can use the computers with the Office Suite (connected with a printer) free of charge.
Free PC corner has been closed temporarily, in order to prevent the spread of the novel coronavirus.

1st Floor

Foreign Exchange Machine

You can exchange foreign currency to Japanese yen.
(Supported currencies: USD, CNY, HKD, TWD, KRW, GBP, EUR, AUD, MYR, THB, SGD, PHP)

1st Floor

Microwave Oven

Microwave oven only for the guests staying at our hotel is available at the lobby, and the elevator hall on the 3rd, 8th, 12th, and 15th floors. Please use it to heat up your foods at anytime.

1st Floor

Gym (For the guests on Premium Floor only.)

Customers staying on the premium floor can use the fitness room on the first floor for free.
Gyms have been closed temporarily, in order to prevent the spread of the novel coronavirus.

Contactless IC Card Key

All the rooms are equipped with contactless IC card keys. The elevator to the regular floors has a key touch system, and you can go up to your guest room floor by touching the card key.
To access the premium floor, you need to unlock the security door with a card key, so families can stay at our hotel at a high level of security.

Pay broadcast

You can enjoy it until 11:00 the next morning for 1,000 yen per night.
*Only cash is accepted for ticket purchases.
(VOD is available to regular floor only.)

3rd to 16th and 20th floors

ice machine

Vending machines are located near the elevator hall. (Only on the 10th floor, the vending machine is located in the middle of the floor.)
Premium floors are located on the 20th floor.
Please use the vending machines when you want a cold drink.

3,8,12,15,20th Floor

Coin-operated laundry

We have a coin-operated laundry for people on a long-term stay or on a sudden stay, so you can stay at our hotel at ease.
You can use it freely for 24 hours. (The Laundromat on the 20th floor alone is for guests on the premium floor only.)
*You can use cash and some of the cashless payments for Coin-operated laundries.
Only cash is available for the laundry on 20th floor.

1st Floor

AED (Automated External Defibrillator)

A device for saving the life of someone experiencing sudden cardiac arrest and preventing sudden cardiac death. At Sotetsu Fresa Inn we value human life very highly, and all our hotels are equipped with an AED at the front desk.

Air purifier with humidifying function

All guest rooms are equipped with air purifier with humidifying function.

2nd Floor

Smoking space

There is a smoking room on the second floor of the hotel. Please feel welcome to smoke there.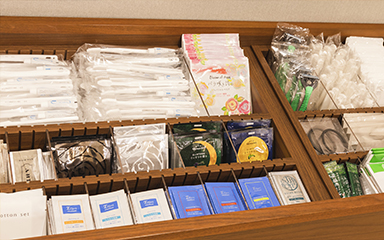 Free amenity
The following amenities are available at the free amenity corner in the lobby.
Toothbrush
Bathing powder
Body sponge
Hair pack
Shower cap
Hair brush
Hair wax
Shaving lotion
Razor
Cleansing & shaving foam
Hair elastic
Cotton bud
Cotton pad
Sunscreen lotion makeup base
Cleansing oil
Facial wash
Facial mask
Face lotion
Milky lotion
Green tea
Instant coffee powder
Black tea
Sugar
Creamer
Muddler
Please see the guest room page for amenities offered in the guest rooms.
* The free amenity is subject to change without prior notice.
*Image for illustrative purposes.
Items available on loan
You can request items available on loan during your stay. Please understand that supplies are limited.
Blu-ray Disc Player / DVD Player

Blankets

Tempur-Pedic pillows

Chopsticks

Ice buckets

Cold compresses / Ice pillows

Extension cords

Curling dryers

Irons / Ironing boards

Pants presses

Wine openers

Thermometers

Nail clippers

Envelopes

Sewing kits

Electric lamps

Wheelchairs

Mobile chargers

Non-slip bath mats
*Image for illustrative purposes.
SOTETSU HOTELS CLUB
Great Value Cashback Membership Program
Numerous Benefits!