BEST RATE GUARANTEE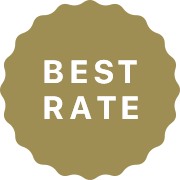 【Best rate guarantee】
This site offers the best deals for your booking
We also offer great accommodation benefits for members of the
SOTETSU HOTELS CLUB.
You will get the best prices for Sotetsu Fresa Inn by booking you hotel reservation on this official website, which offers the best rates.

If the accommodation you have booked on our official website was available (for the same content and with the same conditions) at a lower rate on another accommodation booking website, please contact the hotel directly at the time. After checking the content, if it is confirmed that we have not maintained the best rate, we will gladly provide you the accommodation at the price that you have reported to us.
Conditions for offering the best rate

In order to offer the best rate, the following conditions must be met.

the same hotel
Same services/benefits (including meals and amenities)
Same reservation date and time
Same dates for the booking
Same number of people
the same room type (same view)
Same duration of stay (check-in/check-out time)
Same payment method
Same cancellation conditions

* May be sold at the same rate as on other accommodation booking websites.

Best rate comparison exclusions

The following cases will be excluded from comparisons when providing the best rate.

Services that can not be reserved on the website, such as reservations accepted by telephone only.
Plans that redeem points used on other accommodation booking websites, sponsored plans, etc.
Charges (including points, coupons, etc.) that the hotel is not able to participate in, such as limited-time sales and campaigns conducted on other accommodation booking websites or limited plans for members of the website, etc.
Products not intended for general customers, such as products for corporate contracts, employee welfare programs, specific membership organizations, and groups.
Products that require prepayment using special payment methods (including online auctions and joint purchases), or through credit cards, debit cards, vouchers, coupons, etc.
Packaged products that include more than accommodation, such as transportation, meals, or the use of facilities.
Agent-organized tours etc. sold by travel agencies that are published in pamphlets and on websites. (Products where the hotel does not have a part in the sale price)
Products whose prices fluctuate depending on the exchange rate.

Inquiries about the Best Rate Guarantee

For inquiries regarding the plan price of each hotel, please use the following.

CONTACT
Reservations and Payment
Reservations

Reservations can be made on our website from up to 6 months in advance of the actual night. You'll get the best deal by making a reservation online as a member of the "

SOTETSU HOTELS CLUB

," saving more than if you made a reservation by phone or from another reservation site.

Also, don't forget to reserve a room with a nice view! We gladly accept requests for rooms to be equipped with items on loan, etc.

(Please understand that we may not be able to fulfill your request, depending on the availability of rooms and equipment.)

Time of payment

Accommodation charges are paid in advance. Please pay at the front desk or self-check in/check out machines when you check in.

Payment methods

Please make an on-site payment or online payment by credit card.
Available payment methods differ from hotel to hotel. Some of the hotels only accept cashless payments. Please check the website of each hotel for details.

Kindly check the payment methods when booking a room.

* In the process of our company's online credit card payment, the system of an external company will be used. Hence this external company may contact you regarding the payment request and settlement.

Credit card ・ QR code payment

We accept the following credit cards and QR code payment.
Some payment methods may not be available on the automatic check-in machines at some hotels.
You may use them at the front counter, so please ask the front desk staff.

* Available credit cards may vary by hotels.
*At Fujisawa-Minamiguchi, Saison and UC cards are accepted in addition to the above.

Cancellation policy

We impose the following cancellation fees.

Day prior: 20% of the booking cost
Same-day: 80% of the booking cost
No-show: 100% of the booking cost

* If you make a reservation online, some plan may have a different cancelation policy. Please read description for your plan or check your reservation confirmation email for more details.
If you have any further questions regarding payment, please see the FAQ section.
If you still have questions, please contact us using the contact form.
SOTETSU HOTELS CLUB
Great Value Cashback Membership Program
Numerous Benefits!