If you come to Sendai, this is it! Sendai's 7 famous gourmet specialties
2022.06.28
Sightseeing Spot
SOTETSU HOTELS
SOTETSU FRESA INN
HOTEL SUNROUTE
If you come to Sendai, this is it! Sendai's 7 famous gourmet specialties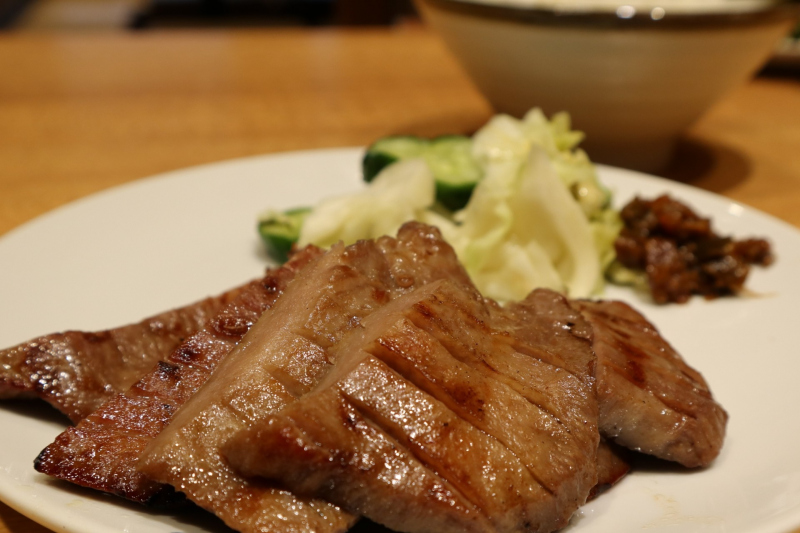 Sendai, a place related to Date Masamune, has abundant natural sightseeing spots and many delicious gourmet foods. It also has good access to the surrounding Matsushima and Shiogama, and is known as the best sightseeing spot and sightseeing base in Tohoku.
Here are some of the famous gourmet foods that you should definitely check out if you go to Sendai.
Sendai City's Famous Gourmet
・Beef tongue
Sendai Gourmet Beef tongue is probably the first thing that comes to mind when you hear the word "gourmet" in Sendai. There are nearly 100 specialty restaurants in the city alone, making it hard to decide where to go.

The standard set meal at a beef tongue restaurant in Sendai is a thick slice of beef tongue served with barley rice and tail soup. 1,500 to 2,000 yen for a thick slice of beef tongue is popular among locals and tourists alike. Beef tongue is low in fat, so even those who are concerned about calories can enjoy a full meal of meat.

JR Sendai Station is home to "Beef tongue street" lined with restaurants specializing in beef tongue. If you have trouble deciding where to go, or if you want to enjoy beef tongue without leaving the station, why not stop by "Beef tongue street"?
・Sasa-kamaboko
Sasa-kamaboko is a classic Sendai souvenir that is recommended as a snack as well as a snack for alcoholic beverages. Delicious for its plump texture and natural flavor, kamaboko has recently become known as a healthy food, low in fat and high in protein.

There are many stores specializing in sasa-kamaboko, but one of the most famous is "Abe Kamaboko-ten". Not only is the standard sasa-kamaboko delicious, but there is also a wide variety, such as cheese-filled and bite-sized ones, that will make you want to try many different flavors.
・Zunda-Mochi
Zunda-Mochi is a local delicacy made by mashing boiled edamame (soybeans) and mixing them with sugar to make a sweet red bean paste, which is then eaten with mochi. Originally, it was eaten chilled in summer, but today it is eaten regardless of the season.

In recent years, Zunda has been used not only in rice cakes, but also in a variety of other sweets, such as Zunda pudding, Zunda shakes, Zunda ice cream, and many other variations. Even if you are not a fan of rice cakes, you can easily enjoy eating and drinking Zunda sweets.
・Chilled Chinese noodles
Chilled Chinese noodles in Sendai? You might think that Sendai is said to be the birthplace of Chilled Chinese noodles.(* There are various theories.)
Chilled Chinese noodles is still a staple of summer gourmet food, but many Chinese restaurants in Sendai offer this Chilled Chinese noodles all year round. Also, as it is said to be the birthplace, each store has its own ingenious Chilled Chinese noodles, so it is recommended to try and compare them.

At "Chinese Cuisine Ryutei", which is said to be the originator of Chilled Chinese food, it is served under the name "Ryanbanmen". You can choose from soy sauce sauce and sesame sauce. Soy sauce sauce is a seasoning that makes you want to drink until the end, and sesame sauce is a seasoning that you can eat until the end without getting tired, both of which are popular. You can choose from two types of sauce, soy sauce sauce and sesame sauce, not only at "Ryutei" but also at many specialty stores in the city.
Specialty Gourmet Foods in Sendai and Surrounding Areas
・Shiogama's Sushi
Sushi in Shiogama is known as a "sushi town" because of its nearby fishing port and easy access to fresh seafood from the Sanriku coast, and is said to have the highest number of sushi restaurants per 1,000㎢ or sushi restaurants to population ratio in Japan, making it the most competitive sushi area in the country. The area is famous for its fresh tuna landed off the coast of Sanriku, but all sushi made with seasonal ingredients and seafood is exquisite. No matter what season you visit, you are sure to enjoy different delicacies.

Some people may think sushi restaurants are somewhat difficult to get into, but there are conveyor belt sushi restaurants and sushi restaurants popular with families, and there are more than a dozen sushi restaurants in the station area alone, so you can enjoy Shiogama's sushi with peace of mind.
・Matsushima Oysters
Miyagi Prefecture is one of the top oyster producing areas in Japan. Although its catch is lower than that of Hiroshima Prefecture, Miyagi Prefecture is also one of the most famous oyster producing areas in Japan.
The oysters of Miyagi Prefecture are slightly smaller than those of Hiroshima Prefecture, but they have a concentrated flavor and a rich, creamy taste.

Oysters are mainly in season in winter, but Miyagi oysters are especially delicious from late March to April, when spring arrives, because their flesh is firmer.

Oysters are widely available in the coastal areas of Miyagi Prefecture, but Matsushima is still the most famous oyster producing area. Some restaurants offer an "all-you-can-eat" menu where you can grill and eat your own oysters, others offer oyster courses, and still others allow you to enjoy oysters in a variety of styles, starting with a single oyster.
・Siroishi Umen
Shiroishi Umen is a specialty of Shiroishi City in the southernmost part of Miyagi Prefecture. It is similar to somen, but is only about 10 cm long, one-third the length of somen. Because it is one size larger in thickness than regular somen, even though it is short, it is very satisfying to eat.

Another important feature of Umen is that it is made without oil, whereas somen noodles are coated with oil when they are rolled out. This makes them less stressful on the stomach and intestines, and they are one of the most easily digestible types of noodles.
Although written as "warm noodles", they can be eaten cold in summer, like somen, or warm in winter, and are eaten throughout the year.
Sotetsu Fresa Inn Sendai (opening July 1, 2022) also offers Sendai specialties.
Sotetsu Fresa Inn Sendai
is located a minute walk from the Sendai morning market. We offer a breakfast buffet using ingredients purchased that day from the Sendai morning market. In addition to fresh seafood dishes such as seasonal fish in dashi chazuke and chirashi sushi, you can also enjoy specialties of Sendai, Miyagi Prefecture, such as sasa-kamaboko, zunda-mochi, and imoni (stewed sweet potato) from the morning.
How was it? We have introduced some of the best gourmet specialties in and around Sendai City. In addition to those introduced here, there are many other delicious gourmet foods in and around Sendai City, such as harako-meshi (harako rice), Sendai aburafu, and Sendai miso ramen. When you visit Sendai, please refer to the above list and try to find your favorite menu.
*Information as of June 2022.

Recommended hotels for this article
Monthly archive
2023(4)

2022(12)

2021(3)

2020(2)

2019(15)

2018(16)

2017(14)

2016(23)

2015(9)
SOTETSU HOTELS CLUB
Great Value Cashback Membership Program
Numerous Benefits!